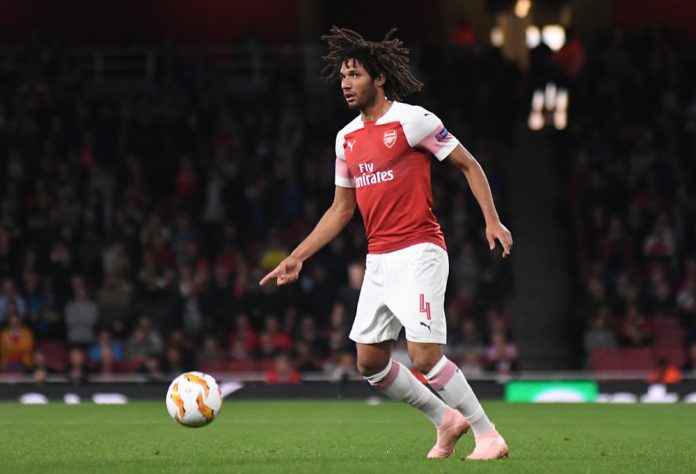 Arsenal is holding 'urgent talks' with one of the Premier League club's sponsors following Mohamed Elneny's recent pro-Palestinian social media protest, which sparked concern with the team's commercial partner.
Last week, the midfielder voiced his views on social media, tweeting out a post accompanied by imagery which read: 'My heart, my soul, my support for you Palestine'. The post also included photographs with the slogan 'Palestine Lives Matter' on them.
With tensions high as Israel-Palestine hostilities persist in the Middle East, the post raised concerns with club sponsors The Lavazza Group and Arsenal's Jewish fanbase.
Tal Ofer, part of the Board of Deputies of British Jews, sought out a statement from a handful of Arsenal's sponsors, including the coffee company and kit manufacturers Adidas, calling for the FA to suspend the Egyptian international on the back of the post.
"As with any employees of Arsenal, our players are entitled to express their views on their own platforms," Arsenal said in a statement to Sky Sports News. "That said, we have spoken to Mo about this so he understands the wider implications of his post.
"As a club we are committed to confronting and eliminating all forms of discrimination and continue to champion the need for equality and diversity across all areas of life."
Although Adidas did not respond, Ofer reaffirmed that he was 'sad that Arsenal did not want to deal with this more seriously, I would expect better from them than this'.
However, The Lavazza Group issued a statement to The Jewish Chronicle which read: "We'll immediately reach out to Arsenal to remark we are concerned about the club associated with such a message.
"Content of this post is totally not aligned with our company values. Lavazza Group is fully committed against racism and antisemitism."
Following Leicester City's FA Cup win over Chelsea at the weekend, Foxes duo Hamza Choudhury and Wesley Fofana held up the Palestine flag as they took a lap of honour around Wembley Stadium in front of supporters to celebrate the 1-0 victory, whilst other notable sportsmen and women have also expressed their views on the ongoing conflict.