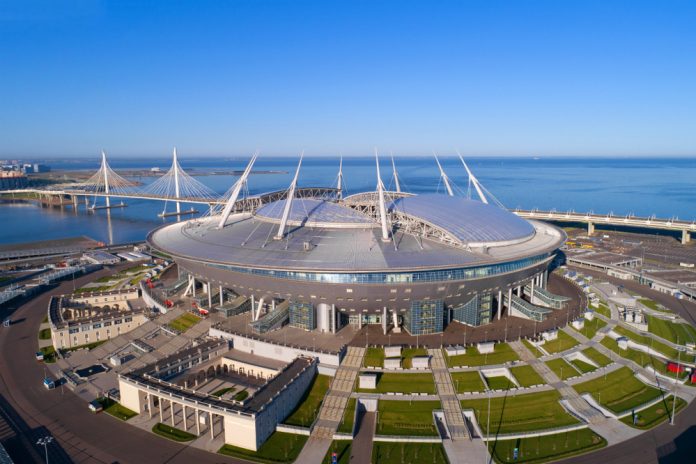 UEFA prevented sponsors of the 2020 UEFA European Championships from advertising using LGBTQ colours at two of the tournament's quarter-final fixtures due to the 'legal framework' in the respective regions.
On Friday, German car manufacturer Volkswagen claimed that UEFA prevented it from using rainbow advertising on LED boards around the stadiums in Baku, Azerbaijan, and Saint Petersburg, Russia, as Spain and Denmark sealed passage to the semi-finals.
The Euro 2020 sponsor said that it was 'not possible to show adverts in rainbow colours in St Petersburg and Baku, in view of the legal framework for sports venues in Russia and Azerbaijan', although it would 'regret this development' preventing it from giving 'another clear pro-diversity signal'.
In response, UEFA said it 'requires its sponsors to ensure that their artwork is compliant with local legislation'.
"UEFA fully supports the display of such messages of tolerance and respect for diversity, which were already displayed in all stadiums at all Round of 16 matches and will be displayed by UEFA's partner Volkswagen at the UEFA Euro 2020 quarter-final matches in Munich and Rome," the European governing body said in a statement.
"UEFA requires its sponsors to ensure that their artwork is compliant with local legislation and we understand that this is not the case in Baku and Saint-Petersburg. UEFA will however continue to highlight its fight against all types of discrimination through its Equal Game campaign across all stadiums in all remaining matches."
The football authority also added that all other sponsors aside from Volkswagen had opted not to use rainbow advertising campaigns after pride month ended.
Last month, UEFA declined a request to light up the Allianz Arena for Germany's final group stage fixture of Euro 2020 due to the 'political context' of the protest, and instead suggested alternative dates.