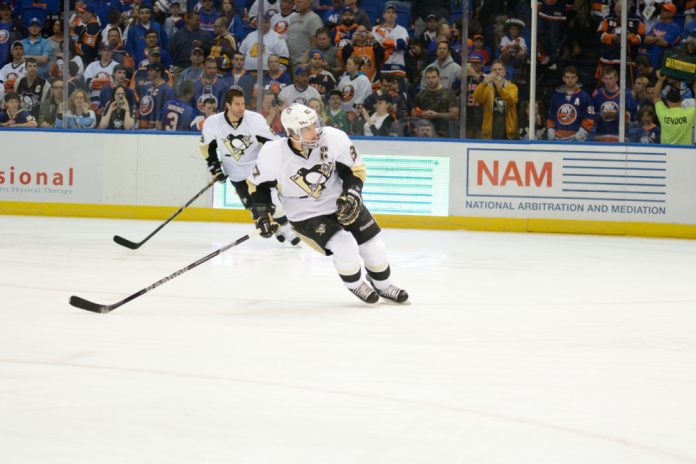 The National Hockey League's (NHL) Pittsburgh Penguins have formed a multi-year agreement with Highmark, which places the Highmark Blue Cross Blue Shield patch on the team's black home game jerseys.
Beginning with the 2022-23 season, the healthcare company will become the first-ever partner to have its logo featured on a Penguins game jersey in the NHL's first season of its jersey advertising programme.
"As a founding partner of the Penguins, Highmark has been a part of our success both on the ice and in the community," commented David Morehouse, President and CEO of the team.
"Stitching the Highmark logo to our home jerseys is a testament to our long-term partnership and an opportunity to showcase this Pittsburgh brand to millions of viewers and social media followers across the world – and especially our fans in attendance at home games at PPG Paints Arena."
The Highmark Blue Cross Blue Shield logo will be worn for all pre-season, regular-season and postseason home games. The 3 x 3.5-inch patch will be located in the upper right chest area of the jersey and includes the Highmark name with the Blue Cross Blue Shield logos.
"The Pittsburgh Penguins are a key part of the fabric of this community," added Tom Doran, Executive Vice President and Chief Operating Officer for Highmark. "Their victories occur on and off the ice as they are also champions of education, wellness, and public service.
"Highmark is proud to team up with the Penguins and believe this partnership is an investment for the community. We are looking forward to seeing the Highmark Blue Cross Blue Shield logo on the front of the Penguins home jerseys."
The NHL's jersey advertising programme permits up to two jersey sponsors per team when separate sponsors appear on home and away jerseys, beginning with the '22-23 season. The Penguins have stated that they will announce an away jersey partner at a later date.