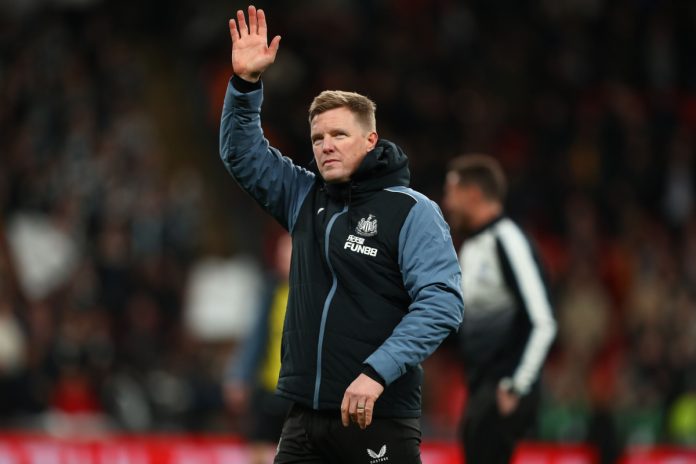 Betting ads run by Ladbrokes featuring Premier League managers such as Eddie Howe and David Moyes have been taken down on the authorisation of the Advertising Standards Authority (ASA).
The ads depicted Howe's transformative impact since taking over the Newcastle United job, with Ladbrokes tweeting an image of the club's form from January 2022, to January 2023.
The second ad flagged by the ASA was a 'next manager to leave odds' image on the Ladbrokes twitter page, featuring Moyes, Frank Lampard, Brendan Rodgers and Gary O'Neil.
The advertising regulators cited that the British bookmaker featured the Premier League managers that would have a "strong appeal to under-18s" and despite acknowledging that Ladbrokes ads were targeted for over-25s, the ASA ruled that because of Twitter's self verification policy, Ladbrokes failed to exclude under-18s with the "highest level of accuracy".
An ASA statement read: "We noted the ads included Eddie Howe, David Moyes, Frank Lampard, Brendan Rodgers and Gary O'Neil, who at the time of publication were all current Premier League managers and would be well known to those who followed football, and in particular fans of the clubs they managed, including children.
"We considered, based on those factors, that all five managers were likely to be of strong appeal to under-18s.
"We acknowledged that the ads were targeted at over-25s, but, because Twitter was a media environment where users self-verified on customer sign-up and did not use robust age-verification, we considered that Ladbrokes had not excluded under-18s from the audience with the highest level of accuracy required for ads, the content of which was likely to appeal strongly to under-18s."
Ladbrokes responded by affirming that the first tweet (featuring Howe) did not direct customers to the bookmaker's site for gambling activity, as well as confirming that Twitter users under-18 must accept their age over the restriction before viewing the tweet.
However, the bookmaker did accept that the second tweet was commercial and 'inadvertently' featured images of the managers involved which Labrokes states is against its own standard and guidance procedure.
With the ASA ruling that both ads shall not appear ever again, Ladbrokes has told the watchdog it will take steps to ensure content related to this will be checked and reviewed more thoroughly in the future.