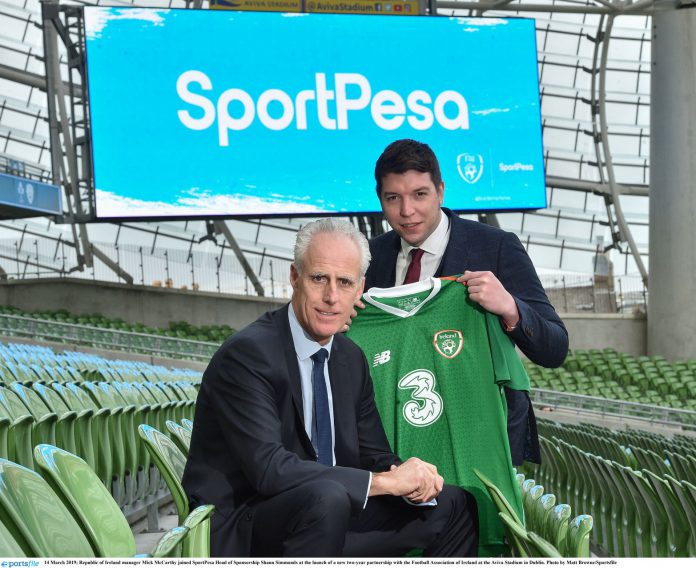 The Football Association of Ireland has announced a new partnership with SportPesa, the global technology and entertainment company.
The two-year-deal will see SportPesa, licensed in Ireland, become the FAI's latest commercial partner.
The announcement was made at a joint press conference at Aviva Stadium, which was addressed by Republic of Ireland manager Mick McCarthy and SportPesa's Head of Marketing Shaun Simmonds.
The new partnership comes as Mick McCarthy's side prepares to embark on its Euro 2020 qualification campaign, following a trip to Gibraltar with a home tie against Georgia.
The deal sees the FAI join the SportPesa sponsorship stable that includes Cork City and English club sides Everton, Arsenal, Hull City, and Southampton.
Kenyan-based SportPesa is also the gaming partner for the Guinness Pro14 Rugby Championship and title partner of the SportPesa Racing Point Formula One team.
As part of their new sponsorship deal, SportPesa will partner with the FAI on a Corporate Social Responsibility Programme.
Speaking ahead of the launch, SportPesa Head of Marketing Shaun Simmonds commented: "We are delighted to announce this ground-breaking partnership with the FAI. This is an incredibly exciting time for football in Ireland with the country set to host some key matches during next year's European Championships.
"As with our other partnerships in sport – we are looking forward to playing a key role in the FAI's ongoing CSR, programmes and initiatives.
"This follows on from our sponsorship deal with Cork City. The Cork City partnership was the first move we ever made in Ireland. The partnership is in its second season and was signed back in February 2018. We're the club's official betting partner, with the usual digital rights and some branding down at Turner's Cross."
FAI Commercial Director Mark Russell added: "I am delighted to welcome SportPesa as a new and key commercial partner of the FAI ahead of the start of our EURO 2020 qualifying campaign.
"The strength of the game in Ireland is reflected in the range of high quality brands which have invested in football and who see football as their preferred sport."