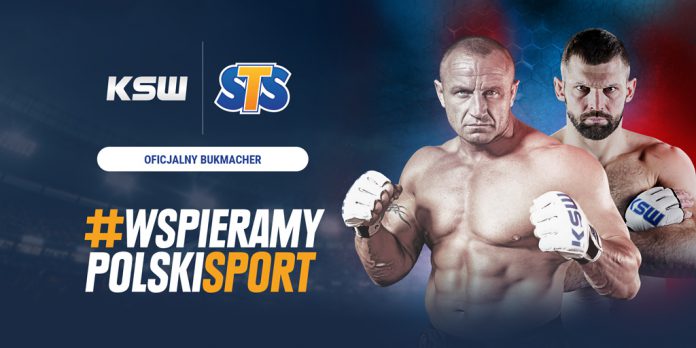 Polish sports betting operator STS recently strengthened its partnership with Poland's leading MMA organisation, KSW.
InsiderSport spoke to the operator's CEO, Mateusz Juroszek about why the partnership provides STS with a great opportunity for exposure, as well as how the two brand's expansion plans are a perfect combination.
InsiderSport: As Poland's leading operator, how proud are you to be associated with KSW and some of the country's most adored athletes?
Mateusz Juroszek: This contract is very important to us. The cooperation between STS and KSW started in 2018 and we signed another one-year contract last week. It means expanding STS's sponsorship activities by an individual sport discipline. Before it we were predominantly known in team sports, mainly football.
InsiderSport: KSW has boasted some of the key names in European MMA, how beneficial is it for STS to be associated with them?
Mateusz Juroszek: We are the biggest operator in Poland but STS has started operating in 11 other European countries recently, including the UK and Germany. The streamings of KSW' galas have been watched by millions of fans all over the world. Due to the contract our brand is visible for all these fans. It is extremely beneficial for us.
InsiderSport: As a key partner of KSW, how much do you anticipate the organisation will grow in the coming years?
Mateusz Juroszek: We believe in KSW. This is why we have signed another contract with the organization. KSW events have been attended by 440 000 people not only in Polish cities, but also in London or Dublin. It is a huge achievement. What is more, the KSW team is still thinking about activities in new countries.
InsiderSport: What type of activations can we look forward to as part of the sponsorship?
Mateusz Juroszek: The agreement – apart from the title of the official KSW bookmaker – ensures STS the presentation of the brand during at least five consecutive galas planned for 2019. Our logo will be shown on the boards, press wall displays and large screens. Moreover live betting rates will be displayed live on large screens.
The contract also provides for the publication of common content on the website, KSW TV and in the social media of the Federation. We will organize some dedicated promotions, bonuses before the galas.
InsiderSport: KSW is shown on DAZN and published on the network's vast social platforms, how much of a positive is this for you in terms of exposure?
Mateusz Juroszek: It is an opportunity to make KSW more and more popular. For us it's another chance that new fans of KSW' galas will be able to see our brand. Due to STS's expansion to the new markets it's very crucial.