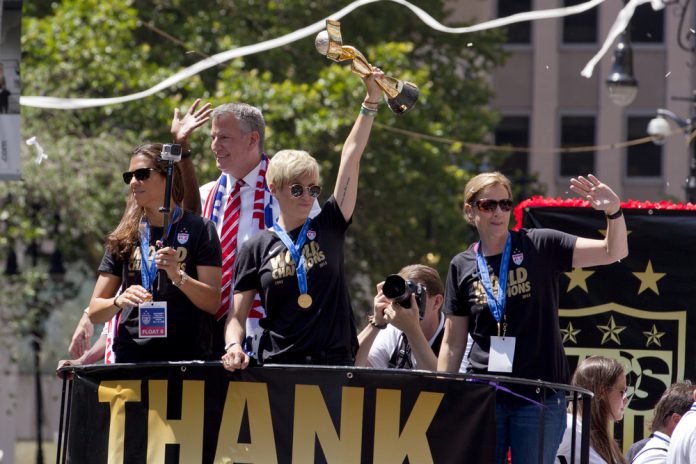 Building on its strong relationship with the US women's national soccer team (USWNT), nutritional foods manufacturer, Luna has issued a $718,750 donation to the side as a show of support for the campaign for equal pay within sports.
The donation comes ahead of the much anticipated FIFA Women's World Cup in the Summer and follows the filing of a lawsuit by the USWMNT against the U.S. Soccer Federation (USSF) last month over alleged gender discrimination, specifically referring to payment inequalities.
Kit Crawford, co-chief executive of Luna Bar's parent company, Clif Bar commented on the move: "It's ironic that one of the most popular sports in the world is still experiencing pay inequalities between women and men.
"We are big fans of the US women's national team and were inspired to take action and make a difference that matters. Luna Bar is honoured to give these women, and women everywhere, our support. It's what is right, but more importantly, it's what they deserve."
Dean Akinjobi, the CEO of Football Media, an agency that has played an active leading role in accommodating brand sponsorship's in Women's football, including a unique deal between West Ham United's Women's team and ZO Skin Health, described it as "a fantastic gesture".
Speaking to InsiderSport, he added: "For Luna Bar to donate such a sum of money to help compensate for the pay gap between the US Women's and Men's players, puts equality in football on the agenda and shows a real commitment to Women's football. "Other international Women's football team sponsors and partners might also start to follow Luna Bar's example, where there is a pay gap between their Women's and Men's international teams.
"As the Women's game develops, we could look back at this moment as the start of a movement in Women's football around pay gap equality, we've seen this happen in tennis at Wimbledon, in Women's football the solution could involve funding by sponsors in the short to medium term."
Luna Bar, which is specifically aimed at a female demographic, will donate $31,250 to each of the 23 players selected for the USWNT's World Cup campaign this summer, meaning they will earn the same figure as their male equivalents.