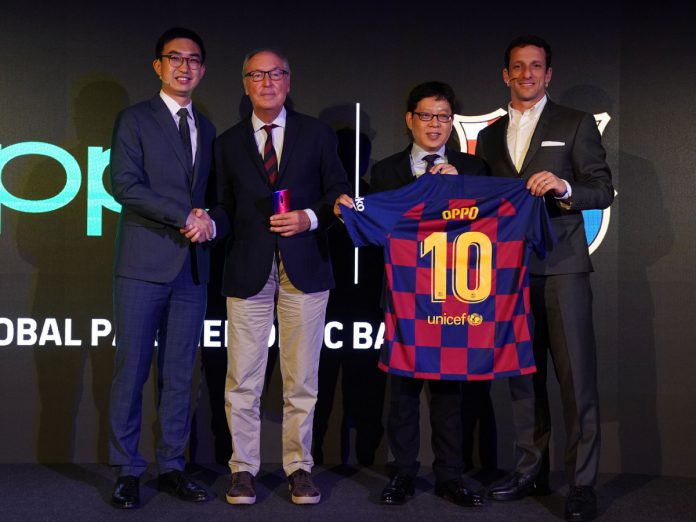 FC Barcelona has extended its partnership with Chinese mobile phone brand, Oppo.
The three year renewal builds on the successful relationship between the two, with the release of a Limited Edition FC Barcelona Reno 10x Zoom Series handset at a launch event at the football club's Camp Nou stadium in Barcelona.
Commenting on the partnership, which is now the longest running partnership between a Chinese brand and a European football club, Alen Wu, Global Vice President, President of Overseas Business at Oppo commented: "We are proud to expand our work with FC Barcelona. It's a partnership like the one we have that demonstrates why Barca is More than a club and Oppo is more than a smartphone company.
"Spain and the European market overall is an integral region for Oppo as we grow our presence there – and we know that in order to grow we must connect with our customers. And today, that's by waving the garnet and blue, the Colours of Miracles."
The renewed partnership will include in-stadium signage, training camps, workshops for fans, creative online and offline fans engagement activities, kicking off an exciting new chapter in the Oppo-FC Barcelona story.
Josep Pont, member of the FC Barcelona board and head of the Commercial Area, added on the deal: "The agreement between FC Barcelona and Oppo began four years ago, based on shared values, goals, and philosophies. That is why I am so proud today to announce the renewal of our partnership agreement and to start a new era together, in which we shall continue to work on new projects to generate unique and innovative experiences that will bring us even closer to our fans around the world."
As the world's fifth-largest smartphone brand, Oppo operates in more than 40 markets globally, and aims to become the favourite smartphone brand in Europe. Oppo has been able to reach out to Barca's more than 200 million fans across the world, making this a critical element of the company's overseas branding strategy.
Derek Sun, Oppo Global Marketing Director concluded on the partnership: "These elements aim to inspire Barca fans, strengthen the community by bringing them closer to the club and Oppo products, and drive our two sides' shared values of passion, creativity, innovation and perfection."