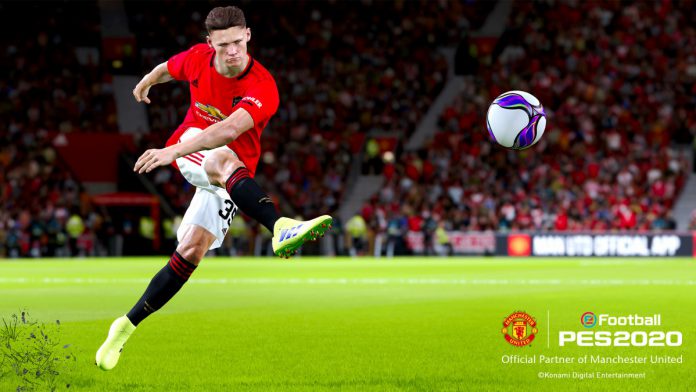 Six weeks on from the UK launch of eFootball PES2020, we caught up with Lennart Bobzien, European PES Brand Manager, who detailed the importance of the right brand ambassadors, as well as the work that went on behind-the-scenes for Konami's latest iteration of the game. 
InsiderSport: The capture of the UEFA Euro 2020 licence has been a massive coup for eFootball PES 2020. Just how much work goes into making such a deal? Has it been something Konami has worked on for months/years in the background?
Lennart Bobzien: We always said that we have a very healthy relationship with UEFA and that we have been exploring opportunities on how to work together in the future. Four years ago, we managed to secure the EURO license for the tournament in France and based on a great collaboration, we managed to secure the EURO 2020 license now that we are very proud of. We were in discussions with UEFA on a continuous basis and are now happy to have made the announcement about this license. Moving forward, exciting projects will come up outside the game but also inside the game.
InsiderSport: How important was it to appoint Andres Iniesta as an eFootball PES 2020 ambassador? Was this decision taken because the player is the ideal symbol for the 'finesse dribble' moves?
LB: We are very grateful to work with a fantastic and legendary footballer player such as Andreas Iniesta. Without a doubt, he has greatly contributed to football in general with his technique and finesse on the pitch. Andres allowed us to look at football through the eyes of one of the best footballers of all time and we enjoyed every single second we spent with him to shape our game to become the most realistic football video game simulation.
InsiderSport: Which of the 'lesser-known' licensed leagues has surprised you the most in recent years with how well it was received by the PES community?
LB: First of all, it is great to see how many different leagues we can offer our fans from all over the world. In terms of performance and popularity of the "smaller" leagues, we are very happy with the Scottish Premiership and Russian Premier League. Especially the latter is great to work with due to its exclusivity. But also the Scottish Premiership is a great addition which was completed due to a partnership agreement between Celtic FC and Rangers FC.
InsiderSport: As arguably the greatest player to have ever played the game is Lionel Messi's continued association with the PES series the most important/valuable asset to Konami at present?
LB: It cannot be described how proud we are to work with a player like Messi who is already a living legend. For the past few years, we already said that we are taking our competition very seriously. Within the game, the PES series provides the best football experience that is available on the market and we want to highlight this by working with the greatest player in the world as our global ambassador.
InsiderSport: Some great 'Legend' players have been added to the roster for eFootball PES 2020. How is the decision made on what Legend players to pursue?
LB: This is based on various factors such as partnerships with different clubs, but also popularity. For example, the legend Andrei Arshavin is a good example; the Russian market is very important for us and due to a high demand and global footprint of that footballer, we decided to include him to the roster of our Legends. Apart from that, we want to provide our users with a wide diversity of Legends, whether they come from Europe (eg. Beckham, Kahn, Cruijff), South America (Ronaldinho, Maradona) or Asia (Park-Ji-Sung, Nakata). 
InsiderSport: Finally, the PES series has garnered a huge following from an enthusiastic and very capable online community. With the excellent in-game editing functions, option files available etc, does Konami feel the PES community is vital to the games continued success and growth?
LB: Our community is amazing and we are thankful to have such a dedicated gamer base. Year on year, they are loyal, but also vocal, which we love. Without them, we wouldn't be able to improve the game on a yearly basis. For example, our mode Master League has been improved based on our fans' feedback for the last two years.
Just recently we launched a Facebook page which is managed by our Development Team which wants to be in closer communication with our community and listen to their thoughts and feedback. Due to that, we are able to work and shape the game even when it's already been released and our fans can be ensured that we are working on as many suggestions as possible.