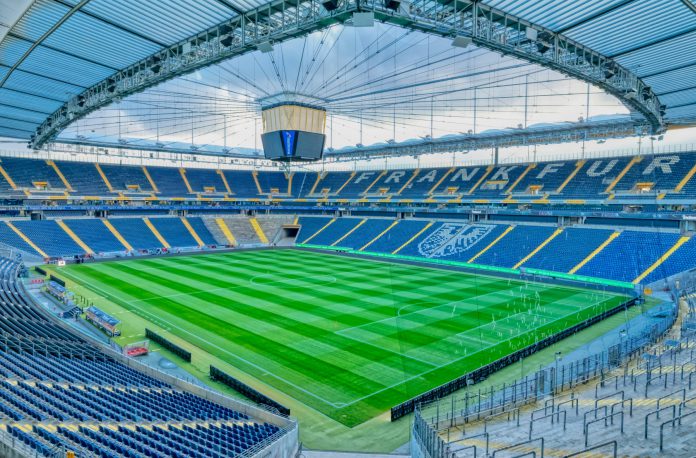 Bundesliga club Eintracht Frankfurt has announced plans that will see the creation of a new digital centre as part of the upgrades to its Commerzbank Arena home stadium.
The plans, which will elevate the club's matchday commercial capabilities, follow  an agreement with local authorities that sees Eintracht become the stadium's sole operator until June 2035. As part of that agreement, the stadium will also undergo an expansion which will see the incorporation of a safe standing area and a capacity increase to 60,000.
The football club will assume the right to sublet the stadium for various sporting and entertainment events, whilst also grasping full control of both the catering operation and marketing of commercial rights to the Arena. Moreover, the club is set to pay the city €8 million per year to rent the stadium, with that figure set to be cut by 50% if they the Eintracht suffers relegation.
As well as these upgrades, the club has announced it will establish an 'Arena of IOT' (The Internet of Things). The IOT, which refers to digital interaction with the Internet and in the industrial sector, will be used to develop innovations for market use by securing partners across the fields of smart building, facility management, energy management, logistics and mobility.
Eintracht board member Axel Hellmann said: "We are happy to announce that after the agreement with the city about the use of the stadium, we are opening the first chapter on the digitisation of the stadium and at the same time contributing to the strengthening of the stadium digital locations in Hesse."
The Arena of IOT, which will see state minister for development Professor Kristina Sinemus act as patron, will see Frankfurt become the first Bundesliga outfit to operate an area of ​​IoT within its own structure, with its centre also set to be equipped with its own project, space and personnel resources.
Hellmann added: "The stadium is the ideal place to test future-proof digital industrial models for use in the market. At no other place in Hesse do so many people come together regularly for matches or concerts as at the Commerzbank Arena. Industrial digital applications that work in such an environment will also work at all transport hubs if bandwidth is adequate."
The development of the Arena of IOT as well as the agreement concerning the operation of the stadium marks a new phase for Eintracht Frankfurt and mirrors its on field success following the club's most recent Bundelsiga fixture which saw them demolish record champions Bayern Munich 5-1. 
Insider Insight: The agreement that will see the club take full control of the stadium can only be a positive one as Eintracht will now have complete control regarding what the stadium is used for which in turn could lead for an improved event schedule that will lead to less clashes with competitive football matches.