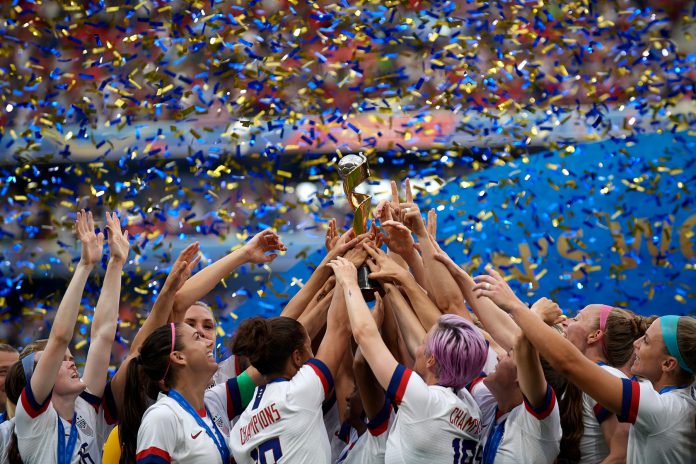 FIFA has announced four bids to host the 2023 Women's World Cup, following last week's submission deadline. 
The governing body confirmed that bids had been received from the Brazilian Football Association (CBF), the Colombian Football Association (FCF), and the Japan Football Association (JFA) as well as a joint submission from the Football Federation Australia (FFA) and New Zealand Football (NZF).
With a final decision expected to be made at a FIFA council meeting in Ethiopia's capital city of Addis Ababa in June 2020, inspection visits will now be conducted in each country between January and February 2020.
Earlier in the year, FIFA president Gianni Infantino confirmed plans to increase the number of participating teams in the next Women's World Cup from 24 to 32 and hailed this year's edition of the tournament. 
He stated: "France 2019 was certainly a watershed moment for women's football, and now it is FIFA's responsibility to take concrete measures to keep fostering the game's incredible growth.
"With the FIFA Women's World Cup generating an unprecedented interest across member associations, we are ensuring that the process to select the hosts is seamless, objective, ethical and transparent. By the time the FIFA council announces the hosts, there should be no doubt whatsoever as to why that choice was made."
A record nine nations which includes Argentina, Bolivia, South Africa, and a joint Korean bid, expressed an interest in hosting the 2023 tournament, however, only four bids were officially received by FIFA after the governing body updated the hosting requirements and reopened the bidding process earlier this year.
Richard Colbeck, Australia's minister for youth and sport, added: "Australia and New Zealand have a successful history of both staging and co-hosting major international sporting events – most recently the Rugby League World Cup 2017 and the Cricket World Cup 2015. By hosting such a premier sporting event, we strengthen Australia's reputation as a world leader in women's sport."
As part of the joint New Zealand/Australia bid, both of the countries' federations have proposed to host the 2023 edition of the Women's World Cup in 12 cities across both countries – seven in Australia and five in New Zealand.
Insider Insight – Having hosted events such as the recent Rugby World Cup and next summer's Tokyo 2020 Olympic and Paralympic Games, the potential addition of the 2023 Women's World Cup would add to the growing levels of sporting engagement in Asia. 
Furthermore, the value of the women's world and women's football in general, continues to surge as the sports builds on myriad of global broadcasting deals and a hugely successful 2019 World Cup.