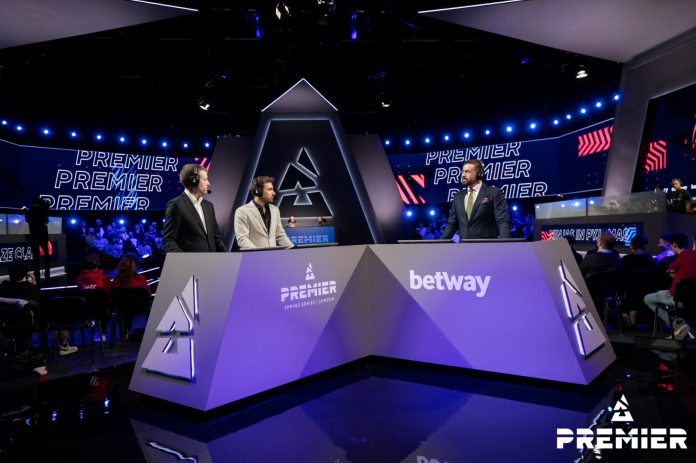 From sponsorships to industry-wide announcements, Insider Sport has you covered when it comes to the world of esports.
This week's edition takes a look BLAST's latest deal with Chinese streaming service DouYu, Vodafone Giants' acquisition of X6tence, and Barclays partnering with NSE.
BLAST Premier 2020 secures broadcast deal with DouYu
Esports entertainment company BLAST has struck a deal with Chinese live streaming service DouYu to broadcast its BLAST Premier 2020 Counter Strike tournament. 
As part of the agreement, DouYu receives exclusive streaming rights in the Mandarin  language for China. 
Alexander Lewin, VP Distribution and Programming, BLAST, stated: "Our partnership with streaming giant DouYu is further testament to the rapidly growing popularity of BLAST Premier in China. The Chinese market continues to play an integral role in the global esports world, and we are delighted to team up with DouYu to entertain millions of BLAST fans in China".
Over the years China has been seen as the hub for esports with roughly half of the country's population, over 600m people, playing games on their phones, computers or game consoles, according to iResearch. 
DouYu, which garnered 163.6 million monthly active users in 2019, will broadcast over 300 hours and over 150 matches across the year. 
Moreover, BLAST is looking to continue to broaden its reach and tap into a potential fanbase. In 2019, the firm hosted seven events across five continents with 1 billion minutes of broadcast in 19 different languages. One such event was the BLAST Premier Series, which was broadcast to over 150m homes on linear TV.
Vodafone Giants boosts its operations with X6tence acquisition 
Spanish organisation Vodafone Giants has acquired X6tence, integrating the firm into its structure along with onboarding the organisation's managers and CS:GO roster.

José Ramón Díaz, CEO of Vodafone Giants, commented: "Giants Gaming has been consolidating an unprecedented market leadership position in recent years and we believe that it is time to make a change of pace and go a step further. With the acquisition of the X6tence brand and our incorporation into the project, we kick-start a new stage of hope where we will work like never before to reformulate the rules of esports."
The acquisition of the fellow Spanish organisation follows Giants' latest funding round in which the firm garnered £2.7m. Moreover, the company has made a series of agreements in 2020 to strengthen its brand, partnering with Nike and Chupa Chups, whilst also renewing its deal with Font Vella.
Adrián Gómez, former CEO of x6tence, concluded: "For us, it has been key to know that X6tence changes owners but maintains its three main pillars intact: respect for its history, passion for a shield and the firm respect for our hobby. Now is the time to work and return the club to the place it deserves. We return to our origins, and with Counter-Strike for flag, we will not rest until the X6tence fan feels pride in these colours again."
NSE gains Barclays sponsorship to strengthen domestic esports initiatives 
National Student Esports (NSE), the official body of university esports in the UK, has announced Barclays as the company's latest partner for the 2020/21 academic year.
As part of the deal Barclays will sponsor the British University Esports Championships, whilst also working with NSE to deliver further initiatives during its partnership.
Jonathan Tilbury, Managing Director at NSE, said: "From day one, we've been struck by how passionate the team at Barclays are about esports. We're incredibly excited to continue working with a brand so committed to positively shaping the future of the student esports space."
Ben Davey, CEO of Barclays Ventures, added: "We are delighted to be partnering with NSE. We see the important role they play in building UK grassroots esports. Not only does NSE bring students from around the country together online, to play the games they love competitively, they also champion programs like FutureGen, to create opportunities to help individuals and communities develop and grow."
Barclays has recently invested in the esports scene, as the firm looks to promote its brand to a wider audience. The bank's NSE deal is the company's second esports partnership this year with Barclays also becoming headline sponsor of the UKLC summer split, the UK's domestic League of Legends competition.
Lagardère Sports rebrands to SPORTFIVE
Lagardère Sports and Entertainment, a global marketing agency in traditional sports and esports, has rebranded to SPORTFIVE as the company shifts its 'organisational structure of dedicated market areas.'
Stefan Felsing, CEO of SPORTFIVE, stated: "Today marks a milestone for our agency. A new leadership team, new ownership and reintroducing to the world of sport a legacy brand name, SPORTFIVE, that not only represents our founding pioneering spirit, but also our strong future of being one of the most progressive and respected partners in sports.
"SPORTFIVE is made up of pioneers in sports across different regions, we believe in the power of sports and that its responsible commercialisation can benefit the society as a whole. I look forward to bringing our tenacity, energy, experience, integrity and trust earned from our stakeholders to make SPORTFIVE synonymous for innovative and emotional sports marketing."
As part of the firm's rebranding, the agency will also be managed by a four-member executive committee that consists of Chief Executive Officer Stefan Felsing, Chief Operating Officer Philipp Hasenbein, Chief Growth Officer Robert Müller von Vultejus, and Chief Financial Officer Christian Peters.
In addition its subsidiaries, which include Lagardère Sports, Lagardère PLUS, U! Sports, VIP Sportstravel will be integrated into the new SPORTFIVE brand to ensure that consistency is created throughout all of its entities.

Last year, Lagardère Sports partnered with T1, one of League of Legends' biggest organisations, which saw the firm become responsible for its commercial rights, including managing all brand deals and sponsorship activations.