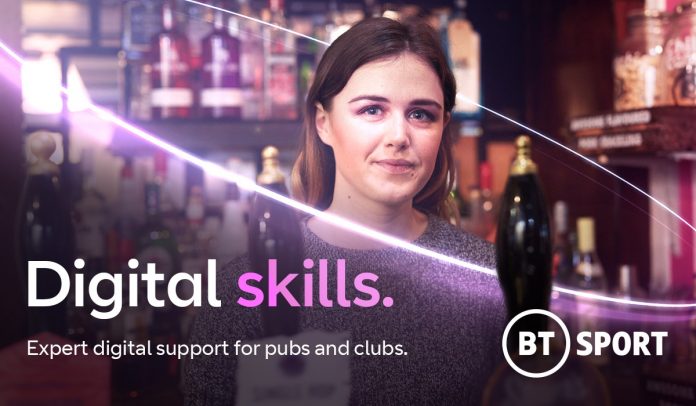 As the football season resumes, BT Sport has announced it's offering free digital support and training to pubs and clubs to help them relaunch their businesses following lockdown. 
The programme builds on the digital workshops run previously with Google Digital Garage, along with in-person venue visits and training delivered by the BT Sport team prior to lockdown.  
Bruce Cuthbert, director commercial customers, BT Sport stated: "The past few months have been unprecedented in terms of the challenges facing the on-trade. We have seen some fantastic examples of businesses adapting, supporting communities and making the best of an extremely difficult time.
"As we exit lockdown, we want to offer our support to customers and the wider industry by giving them access to free digital skills training and support.  Designed specifically for the hospitality industry we will show how our customers can use digital platforms to reconnect with their customers and communities and address some of the COVID-19 related concerns customers might have, allowing them to focus on delivering the brilliant customer experiences that we have all missed."  
The new programme includes online webinars, instructional videos available and tailored one to one digital training exclusive to BT Sport customers via Skype. 
Three live webinars will be broadcast on the BT Business YouTube page, each tailored to the hospitality sector and on-trade market and are open for anyone to join.
The webinars have been created with help from the BII, Ulster Hospitality and Club Mirror and will cover how venues can use an online presence to drive footfall and boost consumer confidence.  
Detailing the workshops planned and their focus, the firm detailed: 
Get Your Business Visible Online: Monday 22nd June – 11:30am


In this session attendees will learn how to use Google My Business to promote their business and drive footfall through the door in a post Covid-19 world. This session will cover the features of a Google business listing and how to engage and respond to customer needs. Attendees will learn practical tips on how to get set up with a Google My Business account and explore how to improve their reach with customers. 

Social Media 101: Wednesday 24th June – 11:30am


This session explores how to use social media to promote business and reconnect with existing customers after lockdown and find new customers online. Attendees will learn about the opportunities that social media brings, how to use it to understand customers' needs and create valuable content. This session will also cover practical tips on how to set up and manage a Facebook business account.

How to Build and Enhance Your Website: Thursday 25th June – 11:30am


This session will cover how to use websites to promote business and connect with customers online. Attendees will learn practical tips on how to set up a website and embed engaging content and functions to achieve their business goals. 
Insider Insight: As the hospitality sector endures a period of elevated turbulence and economic instability, BT Sport's initiative can provide a key boost as the pubs seek to maximise their assets and rights when sports returns.