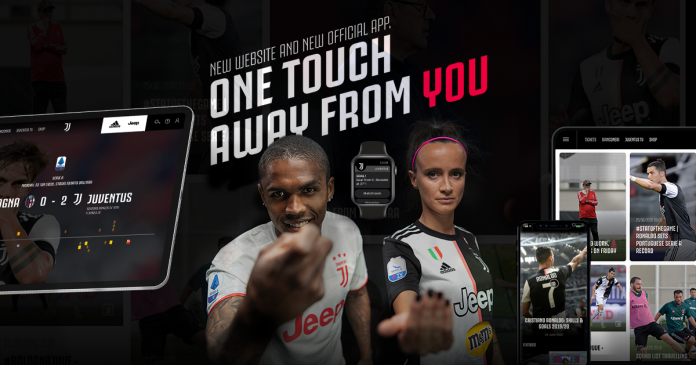 Juventus has unveiled a new digital ecosystem – including the new official website and the new mobile app – which positions the club at the forefront of digital innovation. 
The launch, which is designed and built by the Turin-based specialists in fan-first experiences, Deltatre, marks a revamp of the club's digital strategy. 
It is the first big step in the development of an experience in which fans will be at the centre of a new, completely integrated ecosystem that aims to create a seamless approach throughout all digital touchpoints – including first-party and third-party channels. 
Giorgio Ricci, Juventus Chief Revenue Officer, said:  "Since the beginning of the journey that led us to imagine, create and launch our new digital ecosystem, we strongly wanted to pursue two objectives fundamental to our vision. 
"The first, to put the fan at the centre of the project, who now, thanks to a quick and effortless registration process, will have easy and personalised access to all touchpoints on the platform. As such, they will be able to enjoy all of the available content – videos will play a crucial role in our products and services available at any place and at any time. 
"In addition to this, another important purpose is to continue expanding our global audience, to enhance the brand further and offer our partners additional opportunities for visibility.
"Therefore, a new and exciting path begins today; one which further enhances our leadership in the digital arena, and that we are proud to be able to realise through the collaboration of two forerunners in their respective fields. 
"The combined efforts and the passion with which every single step has been addressed, allows us to launch not only a new website and a new app, but above all, a different, more direct and engaging way of reaching our fans." 
It will offer supporters a unique and consistent experience across its website, mobile app, a newly designed online store, and Juventus TV – the club's OTT platform – which is now integrated as the new video section. 
Andrea Marini, Deputy CEO and Chief Commercial Officer, Deltatre added: "We're honoured to collaborate with Juventus on this project. Deltatre is now a truly global company, but our roots are in Turin, Italy, so it is incredible to partner with a team from the city synonymous with success."  
"Owned and operated mobile-first channels are crucial to the storytelling capability and brand identity of sports teams and organisations. In Juventus, we found a partner that recognises the potential of investing in a premium, direct-to-fan relationship and the monetisation opportunities that this can unlock. We're excited to continue working with the club in evolving its digital fan experience well into the future, and we're confident that supporters all over the world will enjoy the new site, apps and OTT platform."