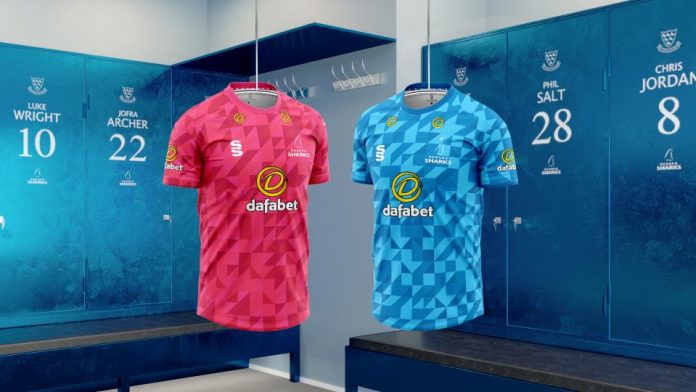 Dafabet has enhanced its sponsorship portfolio via new partnerships with both Durham Cricket and Sussex Cricket as their new kit sponsor.
Furthering its sponsorship portfolio, Dafabet has partnered with both Durham Cricket and Sussex Cricket as their new kit sponsor.
The new partnerships preempt the Vitality Blast T20 campaign and will see the operator's name feature prominently on the two teams' shirts.
Under the three-year agreement with Durham Cricket, Dafabet's logo will be featured on the back of the team's new T20 shirt which was officially revealed by England stars Ben Stokes and Mark Wood.
Head of Sponsorship at Dafabet, John Cruces, said: "Cricket has been one of our fastest international growing sports in recent years with the T20 format being so popular. Therefore it was a natural step for us to put our brand in the eyes of cricket followers worldwide. We're very proud to partner up with Durham, a club steeped in tradition with players known across the globe."
Durham Cricket Sales Director, Tom Seymour, added: "We're delighted to have agreed a deal with Dafabet to have their logo on the back of our new T20 playing shirt and for them to become our principal betting partner.
"We look forward to working with this exciting company over the next three years, as we continue to work together, bringing success on and off the pitch."
Meanwhile Dafabet's logo will feature on the front of Sussex Cricket's T20 and One-Day shirts, as well as on either side of the collar, the non-leading arm and above the player name on the back of the shirt throughout the 2020 and 2021 seasons.
Cruces added: "We are very proud to become a major sponsor of Sussex and have our name on the shirt for both the T20 and the One-Day matches.
"The club needs no introduction to cricket fans having players and a history so well respected within the game. We are looking forward to a long partnership that we are sure will help us achieve our common goals."
Chief Executive of Sussex Cricket Rob Andrew said: "We are thrilled to have agreed a new major partnership with Dafabet, a company who have a wealth of knowledge and experience within the sporting world.
"During these uncertain times, it has never been more important to secure agreements like this which will help sustain the financial future of the club. We thank Dafabet for the support they've shown in us and look forward to working closely with them over the next three years. We can now focus on the season starting in August and the squad wearing the new T20 shirt as soon as the Vitality Blast gets underway."
James Franklin, Lead High Performance Coach, concluded: "I love the new kit, you see the colours and straight away you know it's Durham. A kit release is always exciting for fans, it means we're getting closer to a new season which is even more important at this time. It gives us hope that we'll get some cricket very soon."