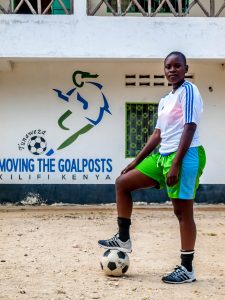 Beyond Sport Global has announced the winners of its '2020 Sport for Gender Equality Collective Impact Award', selecting four initiatives that will each receive a significant investment and strategic support for their individual initiatives. Now in its 12th edition, the Beyond Sport Global Awards aims to fulfil the United Nations Sustainable Development Goals (SDGs) through essential funding to charities.
Last month, the accolades, which are supported by Comic Relief and the BT Supporters Club, were presented to the Sport Aid Development Trust, Moving the Goalposts (MTG), Soccer Without Borders (SWB) and the Pamoja Initiative. The shared sum will go towards developing the respective projects and provide much needed financial support.
Through football, Moving the Goalposts engages disadvantaged women, ranging from aged nine to 25. Established in 2002 in Kilifi, on the rural coast province of Kenya, the organisation has helped over 30,000 young women to shape a better future for themselves since its formation.
Dorcas Amakobe, Executive Director of Moving the Goalposts, told Insider Sport how the programme is making strides with the help of the donation from the award, working alongside schools to provide children with a safe space to play football.
"Over the last 18 years since MTG was founded, the organisation has been receiving endless support from the local communities," Amakobe said. "A good example is the football pitches used by girls for the annual MTG leagues which are community-owned and owned by government schools – these pitches are given to MTG for free at the initiation of the programme. 
"This huge contribution has given girls a safe space to continue playing football at the grassroots level as they access information making them better placed to tackle the challenges they face in life. MTG has identified and mapped out 53 safe pitches in communities where girls have an equal chance to use and play organise tournaments and come to hang out like their counterparts (boys)."
Similarly, the Sports Aid Development Trust aims to make a difference to the livelihoods of young women through football and achieve gender equality within the region.
Paul Zulu, Founder of the Trust, explained: "The girls and young women face many challenges that include poor access to quality education, entrepreneurships and employment opportunities that deprive them of access to good economic opportunities that are a prerequisite to excelling like their boys and young male counterparts.
"It is for this reason that, empowering girls with financial literacy and entrepreneurships and later providing them with start-up capital, increases the chances for the girls to have equal access to opportunities that level the playing field. Sport, particularly football, is used to attract girls to a place void of stereotype, stigma and prejudice where they can receive relevant financial information for business informed decisions.
"The grant will help to leverage our effort to reach out to 3600 girls for the next three years with start-up capital. The target for 2021 is 1200 girls to be reached with start-up capital. We envisage to reach to over 9000,000 girls with information on financial literacy. 
"We will be able to reach this number through football festivals that will be live streamed through social media. This is possible because most girls are on Facebook and WhatsApp – utilising this platform will be a value addition to the scheme."
Kampala-based Soccer Without Borders reported that 46% of the 400 refugees it provides football, literacy and life-skills classes to on a weekly basis are women and girls – a figure that Catherine Kabanyana, the Ugandan Senior Program Coordinator of Soccer Without Borders Uganda, is looking to increase.
She said: "Winning this award adds further credibility to the work we have been implementing in Uganda and East Africa. It will help us continue to build our brand in the region through another year of collaborative projects in both Uganda and East Africa.
"We hope that this award will also help us establish stronger relationships with government offices and the National Football Federation (FUFA), allowing SWB to engage more in meaningful advocacy for women and girls' inclusion in football."
The project is linked to 13 other local non-governmental organisations (NGOs) which work together to increase female participation in sport through after-school, weekend and summer programmes for the refugee and immigrant youth in Kampala. 
"Over the last couple of years, we have been fortunate enough to partner with streetfootballworld and the German Federal Foreign Office to lead coaching training for young women from 10 football-for-good organisations in seven districts in Uganda," Kabanyana continued. "We call this project 'Women Take the Lead'.
"The grant from this Collective Impact award will help us fund both a third edition of 'Women Take the Lead' and a second edition of the Accelerator in 2021, supporting collaboration between 20 football-for good-organisations across five countries to focus on improving female representation on the pitch, on the side-lines and in positions of power in each organisation. Without this grant, it is unlikely we would have been able to continue both of these projects again due to funding limitations during the ongoing pandemic."
? Announcing the 2020 Sport for Gender Equality Collective Impact Award Supported by @comicrelief & the BT Supporters Club Winners:@MTGKilifi #PamojaInitiative@soccerwoborders Uganda@sportaidtrust

Take the Journey with them all week! #sameteam
https://t.co/ie8P68DTw3 pic.twitter.com/xGnWLgv4bn

— Beyond Sport (@BeyondSport) November 9, 2020
On the other hand, projects such as the Pamoji Initiative equip girls with essential survival skills. Women and children, who have been largely marginalised in the past make up 80% of drowning cases in the Kenyan town of Lamu, highlighting the importance of the Beyond Sport cash grant.
"The award will allow us to extend linkages in collaborative impact learning from our fellow Beyond Sport colleagues to exchange ideas and measure impact, and increase the reach of young girls into the swimming program on the island," Co-Founder of Pamoja Initiative, Umra Omar said. "It will also mobilise partners and resources to construct the first public swimming pool on the mainland of Lamu County where the youth are losing their lives in the open sea due to the lack of adequate swimming skills.
"We live on islands where the mode of transport is by sea. Men and boys have unrestricted access and consequently confidence in water. Women and girls do not. This is a life skill that has extensive impact in not only the survival of women and girls but in serving a tool of leveraging equity by building a stronger sense of security, confidence and sisterhood."