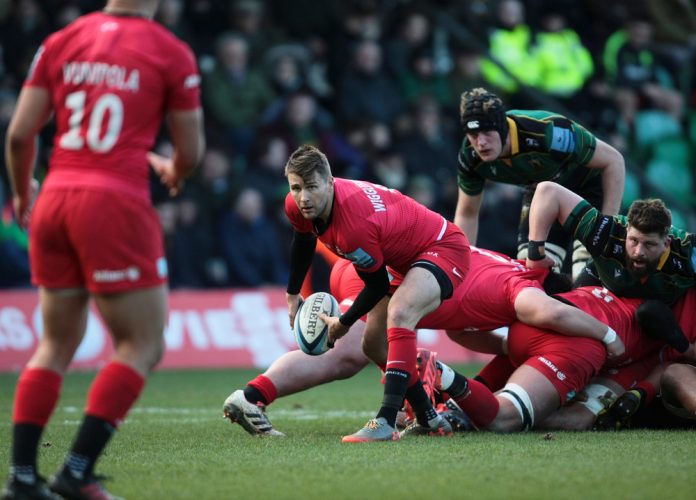 Premiership Rugby has extended its agreement with official automotive sponsor Land Rover.
Under the terms of the arrangement, Land Rover will continue to support rugby at all levels throughout England, from grassroots to elite.
In addition to the partnership with Premiership Rugby, Land Rover has deals with Cardiff Blues, Bath Rugby and Glasgow Warriors, as well as international partnerships with South African and Australian national sides the Springboks and Wallabies.
The vehicle manufacturer has also sponsored three Rugby World Cup tournaments and six British and Irish Lions tours.
"Land Rover is proud to continue its partnership with Premiership Rugby and the renewal clearly demonstrates our commitment to the game at all levels in the UK; from grassroots to elite," said Anthony Bradbury, Marketing Director, Jaguar Land Rover UK.
"To have helped over one hundred thousand youngsters discover rugby through the Land Rover Premiership Rugby Cup is something we are all very proud of, and grassroots rugby will continue to be an area which Land Rover champions, as it is where the values of the sport are fostered."
"There are challenges ahead for the rugby community, but through our rugby partnerships we want to create incredible experiences for fans, players and families to ensure that, no matter what, they can get closer to the sport they love."
A key aspect of the company's grassroots support includes the provision of Land Rover Discovery vehicles to the community departments of all 12 Premiership Rugby clubs, which the league intends to use to aid the development of the domestic game.
This commitment has been central to the agreement first signed in 2002 and Land Rover has supplied more 190 vehicles, covering more than two million miles, over the past 16 years.
Mark Brittain, Chief Commercial Officer, Premiership Rugby said: "Land Rover is a hugely important member of the Premiership Rugby family. The brand's contribution to rugby cannot be understated, so to extend our partnership is something everyone at Premiership Rugby is incredibly excited about, and we look forward to adding to our shared heritage.
"Over the years, Land Rover has set the standard in helping people engage with rugby, and now more than ever, the brand's experience and passion for this will prove invaluable."
Last month the Rugby Premiership renewed its broadcasting rights agreement with BT Sport until 2024, in a deal worth an estimated £110 million according to The Telegraph.