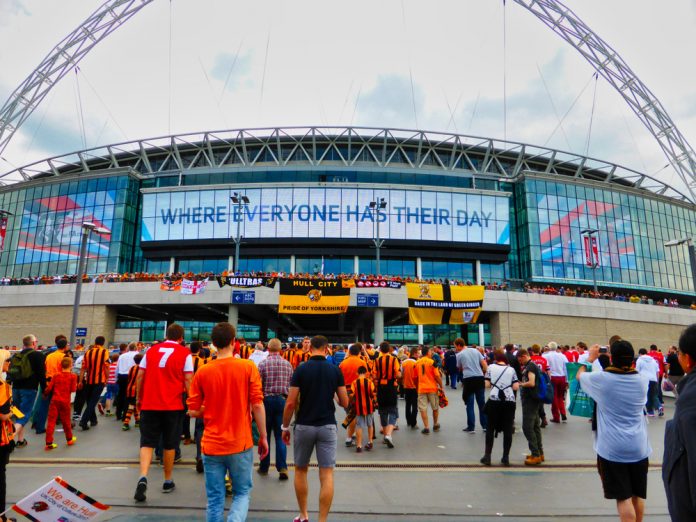 The FA Cup final has been chosen as a trial event for the return of sports spectators as part of the Events Research Programme's (ERP) pilot project.
The Department for Digital, Culture, Media and Sport (DCMS) has disclosed that 'around a dozen' events will be held as a trial run for the large-scale reopening of the UK economy on 21 June, including the FA Cup final at Wembley Stadium and the World Snooker Championship at the Crucible Theatre in Sheffield.
Last month, the government outlined a pilot programme which would begin in April to test the mass return of fans to stadiums, in preparation for 17 May when spectators are permitted to attend live sporting events again as part of Boris Johnson's four-stage roadmap to ease lockdown restrictions.
"These test events will be crucial in finding ways to get fans and audiences back in safely without social distancing," explained Culture Secretary, Oliver Dowden, said in a statement.
"We will be guided by the science and medical experts, but will work flat out to make that happen. We want to get the people back to enjoying what they love and ensure some of our most important growth industries get back on their feet.
"These are important steps towards the safe and special summer we all crave and that I'm fully focused on delivering."
Football's showpiece FA Cup final, scheduled for 15 May in the capital, has been selected as a pilot match and although it has not yet been confirmed how many supporters will be allowed to attend, BBC Sport reported that the government is in discussions to accommodate up to 20,000 fans under the arches.
Extensive coronavirus testing will occur at all planned events, whilst social distancing will also be enforced among the crowds in attendance.
However, one sport which has not been incorporated into the programme is horse racing, despite a handful of racecourses offering to collaborate with the programme and accommodate fans as part of the pilot study.