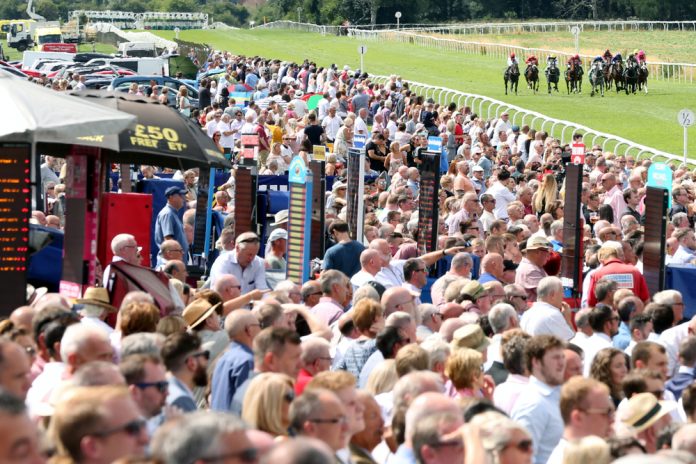 Racecourses across England are making final preparations to reopen next week, as the country moves into the next stage of the easing of lockdown measures.
Beginning on 17 May up to 4,000 horse racing fans will be able to return to the venues, as part of government plans to establish a 25% capacity limit for sporting events.
With further relaxation of restrictions due to take place on 21 June, the Racecourse Association (RCA) – which lauded next week's reopening as a 'milestone' – remains in talks with the UK government to allow a larger crowd of spectators to attend the upcoming Royal Ascot event between 15 and 19 June – one of British and Irish racing's most iconic fixtures.
"This next step in the government's roadmap is a hugely important milestone in the recovery of British Racing," said David Armstrong, Chief Executive of the RCA. 
"Racecourses are very excited to welcome racegoers back and to be able to offer them a full raceday experience whilst extending our provision for owners to whom the sport remains greater in for their continued support.
"Lockdown began almost 14 months ago and it has been a very challenging journey for the industry and for racecourses in particular through several false starts and aborted pilot events. May the 17th marks a key step on the return to normality."
The reopening of racecourses will also see the venues revert to a 'traditional' format, with owners permitted to see their horses ahead of races as well as meet with trainers and jockeys.
However, a 'Green Zone' will be established in key indoor working areas such as the weighing room, where infection control measures such as social distancing, face coverings and entry screening will be implemented – although facemasks will not be mandatory elsewhere on the course.
Due to the mixing of personnel from different zones and the risk of close contact in the parade ring, the number of people permitted to enter the parade rung will be enforced.
Richard Wayman, Chief Operating Officer of the British Horseracing Authority (BHA), remarked: "It is extremely exciting that we are finally able to welcome racegoers back to our racecourses. It will allow racing's many fans to come back to the sport they love after more than a year away. 
"We know there is a huge public demand for families and friends to meet up, outdoors, enjoy great food and drink and the unique social occasion of a race-meeting. In addition, from next week, racing can once again offer our owners the opportunity to feel much closer to the action on a racecourse by returning to the parade ring. 
"Racing's leaders very much appreciate the commitment and patience shown by owners over the past year when their attendance and experience at racecourses has been restricted by the pandemic."
Changes in racecourse rules will initially be implemented only in England, as the racing industry seeks to gain the approval of Scottish and Welsh authorities for the reopening of venues. 
The ability of different racecourses to implement the measures in line with ongoing official government guidelines will be determined by their size and layout, with some required to take a more phased approach, whilst social distancing will continue to apply.
Charlie Liverton, Chief Executive of the Racehorse Owners Association (ROA), added: "Owners have played a critical role in keeping horse racing going behind closed doors throughout the past 12 months, contributing over £30 million a month in training fees alone. 
"Whilst the invoices have continued, the ability to go racing and be a part of the race day experience has been greatly hindered as the country, and the wider industry, dealt with the pandemic at large. It is therefore a welcome step that come May 17th owners can get a step closer to the action with a return to the parade ring."
In addition to horse racing, other sporting venues such as football grounds will also allow spectators to return at 25% capacity, although up to 20,000 may be able to attend the FA Cup final between Leicester City and Chelsea on 15 May due its status as a 'test event'.
Additionally, 25,000 England fans will be able to attend national matches at Wembley Stadium for the upcoming 2020 European Championships, whilst 13,000 Scottish supporters have been permitted to watch the home team at Glasgow's Hampden Park.