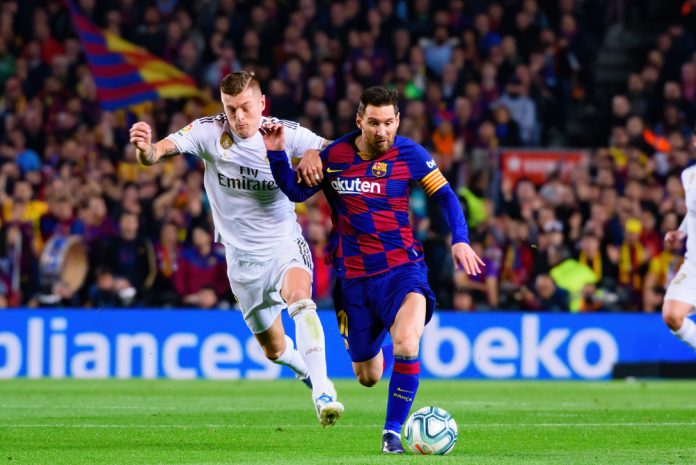 ESPN and LaLiga have struck an expansive media rights agreement that will see streaming service ESPN+ become the new English and Spanish language home for the LaLiga Santander and LaLiga SmartBank in the US for the next eight seasons.
Kicking off in August, the deal will see the streaming service – which already offers the Spanish Copa del Rey, Copa de la Reina and Supercopa de España – carry 'hundreds' of live matches across both leagues through to the 2028/29 season, including 380 top-tier fixtures featuring LaLiga's top teams FC Barcelona, Real Madrid and Atlético Madrid.
In addition, ESPN+ will livestream a selection of LaLiga SmartBank matches each round throughout the campaign, including five postseason promotion play-offs. All matches will be available to fans in both English and Spanish. 
According to the AFP agency and Spanish media reports, the contract represents the most lucrative football broadcasting deal ever inked in the US, with the arrangement said to be valued at $175 million per year or $1.4 billion in total across the duration of the deal.
"This agreement will bring the excitement, passion, iconic clubs and global superstars of LaLiga to US sports fans with unprecedented access and coverage," explained Burke Magnus, Executive Vice President, Programming & Original Content, ESPN.
"As the sport of soccer continues its ascendance in the US market, we are incredibly excited to work with LaLiga to establish a deeper connection to American fans through our company's industry-leading streaming platforms, television networks, and digital and social media assets." 
In addition, Disney-owned ESPN will facilitate a variety of surround programming, including match previews, highlights and magazine shows – continuing to cover LaLiga extensively on signature ESPN+ shows such as ESPN FC, Jorge Ramos y su Banda and Fuera de Juego. The deal also includes a one-hour programme leading up to the famous, regular season El Clásico derby.
Select matches will air across ESPN networks each season, with coverage and highlights also available on SportsCenter and other ESPN studio programmes, as well as on ESPN digital and social platforms.
Russell Wolff, Executive Vice President and GM, ESPN+, added: "This agreement creates a true home for LaLiga in the Us for years to come and cements ESPN+ as the premier platform for soccer. We're excited to showcase the brilliance of LaLiga in our English and Spanish coverage for the growing legion of soccer fans and ESPN+ subscribers." 
Earlier in the week, it was announced that the Spanish governing body had agreed a 'strategic buy-back' with current LaLiga rights-holder beIN Sports for the final few years of its deal with the Qatari media group.
The original four-year deal between beIN and LaLiga covered the 2020/21 campaign to the 2023/24 season. However, beIN will continue to act as one of LaLiga's overseas broadcast partners, screening the top division in more than 35 countries spanning three continents.
"We are absolutely thrilled to bring LaLiga to ESPN in the US," commented Javier Tebas, President, LaLiga. "This is an historic eight-season agreement in US soccer broadcasting that speaks to the power of LaLiga and its clubs in the largest media market in the world and will bring the world's best soccer league to American screens in a more comprehensive and modern way than ever before."