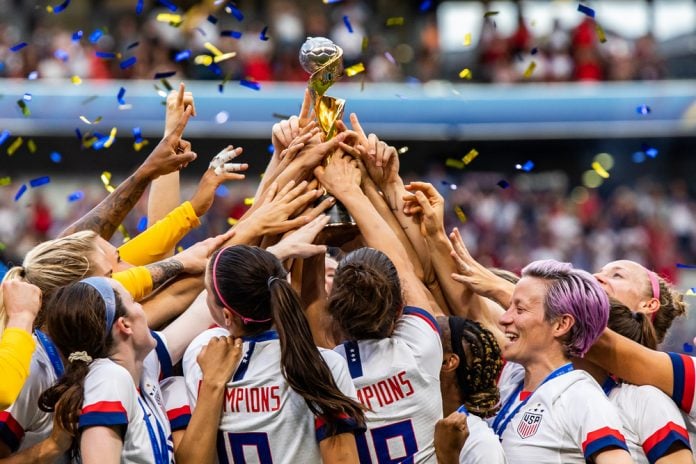 FIFA has published its Benchmarking Report, the first survey into the development of top-tier professional women's football, identifying exclusive sponsorship and broadcasting deals as the key growth drivers of the sport.
Surveying a total of 282 women's football clubs from 30 top-flight leagues, the report found that 72% of teams negotiate some sponsorship contracts for their women's team only. It was further stated these clubs achieved a higher average total revenue and sponsorship revenue as a result.
Additionally, teams that generate revenues of over $1 million raised more than half of it through sponsorship agreements, in comparison less than a third of clubs averaging revenue of under $1 million.
The report also found that leagues that negotiate exclusive broadcasting contracts for women's football generate an average turnover of $700,000, whilst the teams that do not opt for exclusive deals recorded around $100,000.
Broadcasting via traditional and digital platforms has been identified as a major growth opportunity, with media rights earnings currently accounting for just 6% of women's club revenue and 18% of league revenue.
"Whilst many clubs and leagues continue to navigate the impact of Covid-19 on football, this report provides key insights into the reality of the women's game, as well as the many opportunities and challenges, on and off the pitch for players, clubs and leagues around the world," said Sarai Bareman, Chief Women's Football Officer at FIFA.
""It is paramount, as we look to the future of our game and make decisions that will impact generations to come, that we base these decisions on a clear understanding of where we are.
"This means generating these insights into what is working well in the current context. This report is an important document to support the decision making process of the stakeholders involved in the game."
Furthermore, leagues that implement financial controls and operate a club licencing system had a higher proportion of profitable teams, and a higher revenue stream of $900,000, in comparison to $300,000.
Team's with an established strategy for the development of the women's game also performed substantially better, achieving a higher average revenue of 224%.
Lastly, club's offering a season ticket for women's fixtures reported both higher revenues – $800,000 compared to $300,000 – and a higher attendance rate of 1,400 versus 1,000.
Bareman concluded: "Whilst the progress already made and Fifa's commitment to the women's game is clear, more can still be done across football to maximise the exciting opportunities on the horizon and ensure a strong and sustainable ecosystem for the whole of women's football."
The report comes as professional women's football continues to increase in prominence and profitability. It was reported earlier this year that women's sport in the UK could see its revenues treble and reach the £1 billion mark by 2030, as the FA Women's Super League (FA WSL) reached a landmark broadcasting agreement with Sky Sports and the BBC.