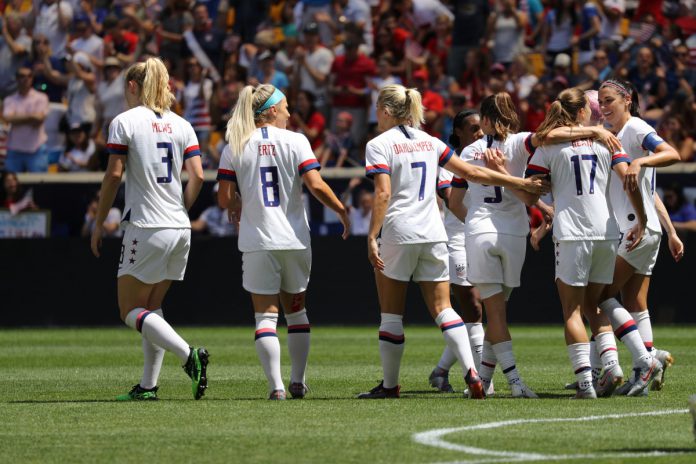 The US Women's National Team (USWNT) and the US Soccer body have agreed to mediation which will take place after the current World Cup tournament ends in France.
The USWNT beat Spain 2-1 in yesterday's last-sixteen fixture, setting themselves up for a mouth-watering quarter-final encounter against the host nation, France, this Friday evening.
Just months before the WC, 28 US national team players began the process of suing US Soccer, alleging systemic gender-based discrimination in wages and other terms, as reported in the LA Times.
The 28 members of the USWNT squad requested working conditions on a par with what is provided to the men's national team. They were also seeking damages, including back pay, citing "institutionalized gender discrimination" in pay, travel and other working conditions in comparison to the conditions the men's national team are facilitated with.
Now, it's expected that the mediation process will begin between the players' group and US Soccer next month, shortly after the WC ends on July 7th.
This development was first reported by the Wall Street Journal and has since been confirmed by representatives for both sides of the dispute.
The USWNT is the current World Champion and has looked very strong in the defence of its title in France this summer, clearly managing to focus on the on-pitch task in hand before entering negotiations with US Soccer.
US Soccer released a statement regarding the ongoing stand-off and the upcoming mediation process, part of which stated: "The women are paid under a different structure than the men, which they preferred and specifically negotiated for. But that doesn't mean they are compensated less by U.S. Soccer."
It's clear from the above that mediation does not guarantee a successful outcome for all involved. If both sides don't agree on the suggested course of action from the mediator then court proceedings may well resume in the future.