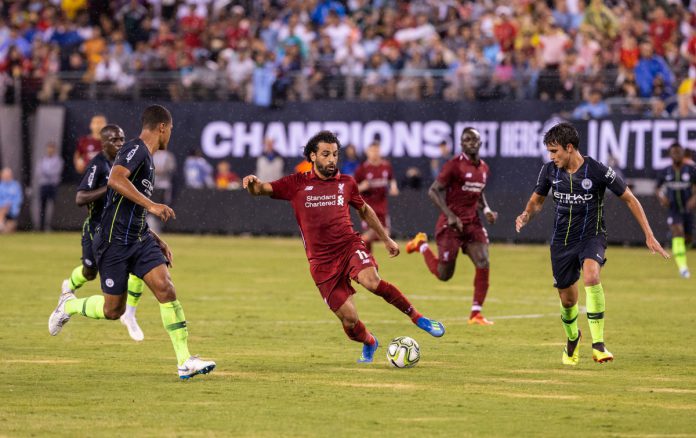 Since the start of the 2017/18 season, the Premier League (PL) has allowed clubs to have sleeve sponsors on kits.
That first season, the main collaborations were Liverpool and Western Union, Chelsea with Alliance Tyres and Manchester City's Nexen Tire deal. Some journalists voiced their displeasure at the move, concerned that footballers in multi-sponsored kits would become "walking billboards".
In 2018, Italy's Serie A followed suit at the request of the clubs meaning that now all of Europe's top five leagues (Spain's LaLiga, Germany's Bundesliga, England's PL, France's Ligue 1, Italy's Serie A) allow sleeve sponsors on their kits.
What seems like a small matter, however, can be worth millions to a club. Arsenal and Chelsea's sleeve sponsors reportedly pay them approximately £10 million each annually while Manchester United apparently receive a huge £20 million per year from the club's sleeve sponsors, Kohler.
In some cases, such as Liverpool's deal with Western Union, the financial details of the contract were not disclosed to the public, however, it was a five-year sleeve sponsorship deal. It seems that for most of the top-half clubs in the PL, their first sleeve deals are worth anywhere between £5-£20 million per year.
Newcastle United just announced they will have StormGain as its sleeve sponsors this coming season. Mike Ashley's club was one of the two remaining not to have such a deal in place. Now, the solitary team without a sleeve sponsor going into the 2019/20 campaign is Spurs.
The minutes from a Tottenham Hotspur Supporters' Trust AGM last year stated the following as club chairman Daniel Levy's explanation as to why Spurs had not sold its sleeve sponsorship to anyone.
Daniel Levy explained that any sleeve sponsorship may compromise the value of the [stadium] naming rights deal, so the naming rights would come first.
With this week's news that Spurs have agreed to a long-term extension of its existing deal with AIA, it was notable that there was still no mention of sleeve sponsorship within the deal.
The club extended its principal partnership with life insurance company AIA Group Limited (AIA) until the end of the 2026/27 season, in a deal reportedly worth UK£320 million (US$396 million).
It seems that Spurs are missing out on a deal which could be potentially worth an extra £20 million to them, especially after their appearance in the Champions League final in June. Some corporations will surely have enquired about sleeve sponsorship with the club as they established themselves as one of the top English clubs in Europe. Spurs will likely be in the top four of the PL again this season as well as probably going far in the Champions League. It makes you wonder how many propositions the club turned down regarding sleeve sponsorships and, of course, if it was the correct decision by the club.
All of the other 19 PL clubs have existing deals where sleeve sponsors will be displayed:
Arsenal – Visit Rwanda

Aston Villa – BR88

Bournemouth – Mansion

Brighton & Hove Albion – JD

Burnley – LoveBet

Chelsea – Hyundai

Crystal Palace – All Football

Everton – Angry Birds

Leicester City – Bia Saigon

Liverpool – Western Union

Manchester City – Nexen Tire

Manchester United – Kohler

Newcastle United – StormGain

Norwich City – Best Fiends

Sheffield United – USG

Southampton – Virgin Media

Watford – MoPlay

West Ham United – Basset & Gold

Wolverhampton Wanderers – CoinDeal
Burnley (LoveBet), Bournemouth (Mansion) and Sheffield United (USG) are the only three PL clubs to have the same shirt and sleeve sponsor.
Companies will have crunched the data since undertaking their sleeve sponsorship deals to know exactly what such a contract is worth to them. We can expect more accurate prices reflecting the real value of these agreements when teams are renegotiating with their sleeve sponsors at the end of the original contracts.
With the widespread coverage of the PL via Sky Sports, BT Sport and on stations in hundreds of nations worldwide, the premium is never going to be small for such exposure.
Will the PL and the Football Association stop at sleeve sponsors? Clubs might just look for even further revenue streams and vote for more sponsorship space to be allowed on kits in the near future.