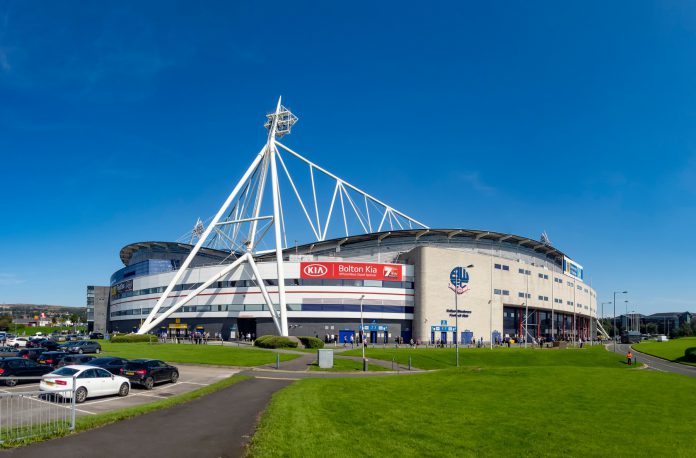 Bolton Wanderers Football Club has announced that Home Bargains has become the club's official shirt sponsor for the remainder of the current season.
The deal sees the Home Bargains logo printed on the front of the Bolton kit along with an homage to the formation of the club, with 'Established 1877' also included on the chest of the shirt.
Bolton Wanderers CEO, Emma Beaugeard, said: "Based in the North West and having an approach that is centred on the community, Home Bargains were a natural fit to be our official shirt sponsor. We are excited by this partnership and are looking forward to working closely with them over the course of this season."
The club, who was last sponsored by betting company Betfred, started the 2019/20 League One campaign without a shirt sponsor due to the uncertainty surrounding its future following a summer in administration. 
Wanderers then faced liquidation however, after a deadline extension was granted to them by the English Football League (EFL), the club found new investors and were saved in August after Football Ventures Limited took over the club. 
Becki Colton, Events and Community Engagement Manager from Home Bargains added: "We've seen how passionate our customers in the area are about Bolton Wanderers and are delighted to be able to support the club. We know they've have had a tough time, but with our new sponsorship we hope to usher in a new era of success for the sleeping giant."
As well as the Home Bargains sponsorship, the former Premier LEague club also unveiled a brand new home and away kit which was produced in conjunction with  Leeds-based Infinity Apparel.
John Carden, Managing Director of Infinity Apparel, commented: "The whole range from briefing to production has only taken four weeks to deliver which is unheard of in the football apparel industry.
The whole team really pulled together to make this happen. It was a lot of hard work for everyone but we are passionate about Bolton Wanderers and bringing this new kit to the fans."
Bolton showed off both its new kit and sponsor last night in a 0-0 draw at home to Blackpool. 
Beaugeard concluded: "We are grateful for the commitment Infinity Apparel have shown in getting the shirts produced to a high standard in such a short space of time.
"The new designs look great and I'm sure our supporters will love them."
Bolton currently sit at the bottom of the League One table after the club started the season with a 12-point deduction. The club's next fixture is at home to Rochdale following the international break on 19 October.