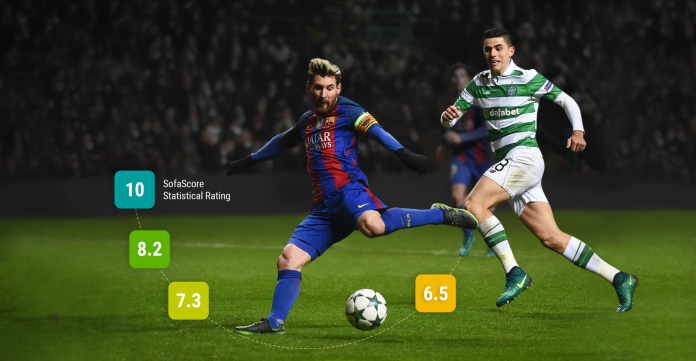 Daniel Jurilj Ad operations and Sales Manager at SofaScore underlined the importance of maximising data when it comes to fan engagement, as well as how mobile interaction can enrich the matchday experience for football fans. 
InsiderSport: Can you tell us a little more about SofaScore and what sets the app apart from the competition? 
Daniel Jurilj: SofaScore is the brainchild of a couple of sports addicts who wanted to build an app that resonates to the needs of a modern sports fan. What started as an enthusiastic project has quickly grown to a product with over 20M monthly active users across all platforms (iOS, Android, desktop). In the core of the business is of course the live scores platform, but from the beginning our goal was to bring fan engagement to the next level. SofaScore is not just an app for someone who is not able to watch the game and wants to be on track with the latest results – SofaScore is your game companion. Acting as a second screen when watching on TV or live at the stadium for that matter, the app offers a plethora of information that enriches the game experience. 
Drawing inspiration from games like FIFA, Pro Evolution Soccer, the Football Manager series, NBA, various fantasy formats and so on, we have developed dozens of features that keep our fans engaged. All the features go through a rigorous testing process, and for the better part they all land positively with our users. We are all a little sports crazy (SofaScore covers 20+ sports) so to be honest we are building an app to improve our own experience, but we also heavily rely on fan feedback. There are numerous little things that we have improved in the app simply from user feedback and besides the unique features, this is the main thing that separates us from the competition – the time invested in user engagement. From a fan perspective, seeing a global app that you love change something just from your feedback and getting official merchandise in return is something that creates bond that can't be measured.    
InsiderSport: How important is it that data is correctly utilised when it comes to fan engagement? 
Daniel Jurilj: Immensely! Long gone are the days when you would argue with a friend about how good/bad a player is without really going into numbers or just freely throwing around figures that are hard to check. SofaScore serves as argument decider. Just recently picked up on twitter argument where one user claimed Wan-Bissaka hasn't brought much to Man United's defence and was quickly rebunked by another with a screenshot showing AWB leads in tackles per game category in the PL. But, we are aware of the layered structure of our users.
While fans might use the app just for the enjoyment, sports professionals rely on our data for various reasons. Football players of the highest level follow us on social media and use app screenshots in their insta stories when getting a good rating, coaches and scouts make training schedules/recommendations based on our stats and graphics, journalists follow certain players/teams with ease and so on. It shows the app can be what you want it to be. To satisfy all these peculiar interests you need to have a good UX design, because people install the app for the scores and stay for the other things. You can't load them with everything at once.    
InsiderSport: In what ways can mobile engagement enrich the live sporting experience and not act as a distraction? 
Daniel Jurilj: I'll break down an imaginary train thought focusing on live matches (it is very close to reality). You get official lineups one hour before the match. In match details you check previous meetings, players with the best form in recent matches and so on. The game kicks-off and you put your phone down, but there's nothing going on. You are wondering which player has made the most passes, made the most tackles and you check the app.
Then you want to see teams' average formations and most frequent play areas. A particular star player is not having a good day – how does his heatmap look like? He didn't have a single touch in 30mins?! I'll share this on social media. Actually, it seems this player is having a dip in form so you check his SofaScore ratings from previous matches. The last time he had a good rating is a month ago but SofaScore shows he played a totally different position then. I'll share this on social media as well and the online conversation goes on…
However, all this doesn't mean you won't check the app when the game is good, quite the opposite good games might have even more engagement and "share" value for social media. In this sense, SofaScore is not only your game companion but it is also a rich content source fuelling online discussions. 
InsiderSport: With a plethora of features on the SofaScore app, which have been the most popular with users? 
Daniel Jurilj: That would have to be heatmaps – either seasonal or for a specific match, our fans love to share and comment on them. Our design team did a really good job to highlight action points making it quite easy to understand what area the player covered. I.e. there is something quite satisfying to see a full pitch heatmap of a top performing box-to-box midfielder.
However, I have to mention Attack Momentum feature that looks as a simple graph but really tells you the story of the match. The most straightforward example would be to check recent Man City's Champions League match vs Dinamo Zagreb. If it was your first time seeing the graph you would immediately understand that City had all the possession and chances and that Dinamo had basically one shot on goal. I always find it interesting to check the attack momentum when an underdog gets a good result against a big team and understand immediately was it a fluke or did they play a competitive match.
There are a lot more features I could mention, but I'll single out SofaScore Statistical player ratings. We have thousands of stats on player basis for each match and we have crunched this data in a complex algorithm in order to evaluate player performances. Rating them on a scale 1 to 10, our ratings system has been recognized by fans and professionals alike and has brought us new opportunities. For the past few seasons our ratings are part of the points system in popular fantasy games – Biwenger, Comunio, Playmister and Futmondo (apps primarily focused on Spain, Turkey and Germany). 
InsiderSport: Can you tell us anyways in which SofaScore plans on expanding its offering ahead of Euro 2020?
Daniel Jurilj: SofaScore probably won't roll out any major feature focusing just on EURO 2020, but we'll have many features that will aim to engage users even more. We'll focus on fans interaction and them being able to voice their support for a certain team. We had very good engagement during the 2018 World Cup with various features and we will look to build on this experience. A big focus will also be on our social media where the aim is to reward our followers with multiple giveaways. We are aware that EURO 2020 will come quickly and we are already preparing for it.