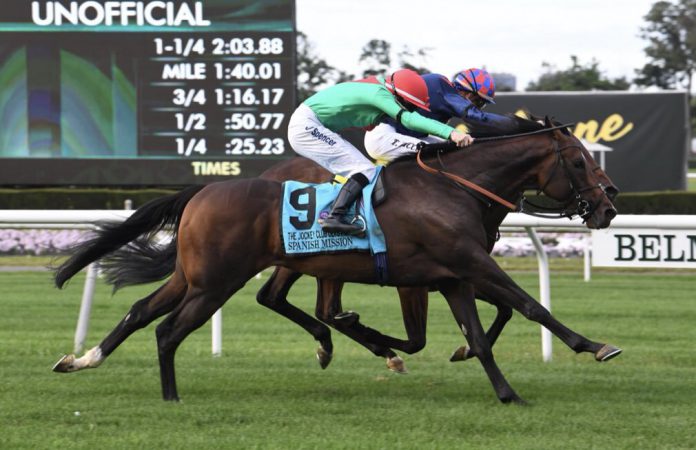 As part of two new partnership agreements with the New York Racing Association (NYRA), Sky Sports Racing has acquired exclusive UK and Ireland broadcast rights for all races from Woodbine, Saratoga, Aqueduct and Belmont Park racecourses. 
In 2018, NYRA hosted 219 fixtures at its three tracks including over 100 Graded races and has recently completed its inaugural Turf Triple Series worth over $5 million. The Series has already proved popular amongst British and Irish trainers. 
Matthew Imi, Chief Executive, At The Races commented: "We're thrilled to be partnering with two racing organisations as forward thinking and respected as NYRA and Woodbine. Their venues host high quality racing and their East coast locations are increasingly attracting British and Irish trained horses. This complements our offering of the world's best international racing, and we're excited about promoting and showcasing NYRA and Woodbine racing in the UK and Ireland."
The tracks will benefit from elevated coverage as part of the deals, with Sky Sports Racing utilising high-quality HD signals from each track into its nightly, studio-hosted US racing broadcasts while a close collaboration between attheraces.com and the racecourses will drive comprehensive digital and social media coverage for race fans.
Tony Allevato, Chief Revenue Officer, NYRA added on the deal: "Partnering with Sky Sports will expand the reach of NYRA's acclaimed television simulcast program and provide viewers in the UK with high quality daily coverage of Aqueduct Racetrack, Belmont Park and Saratoga Race Course. To be featured prominently on Sky Sports Racing and its digital At The Races channels will benefit New York's horsemen and grow the sport."
Woodbine is regarded as one of Canada's most prestigious racecourse and host to The Queen's Plate, the longest, continually run Stakes race in North America as well as 36 Graded races including the Woodbine Mile and Canadian International. 
Jim Lawson, Chief Executive, Woodbine Entertainment concluded: "We are excited to partner with Sky Sports to further promote our world-class Thoroughbred horse racing at Woodbine Racetrack. With the opening of our second turf course earlier this summer and our renowned E.P. Taylor course, we have carded more turf races than ever before which we believe will resonate well with the Sky Sports audience in the UK and Ireland.
"This partnership will also provide further exposure to our major racing events highlighted by the Queen's Plate, the Ricoh Woodbine Mile and the Pattison Canadian International."
Insider Insight: Having established itself as a key player in the racing broadcasting sector at the beginning of the year, Sky Sports Racing has inevitably gone from strength to strength, bringing deepened analysis, insight and innovations to the sector.
For the platform to focus on overseas racing, as well as domestic coverage represents a shrewd decision, as the racing consumption is constantly undergoing an evolution that requires broadcasters to provide round-the-clock coverage.