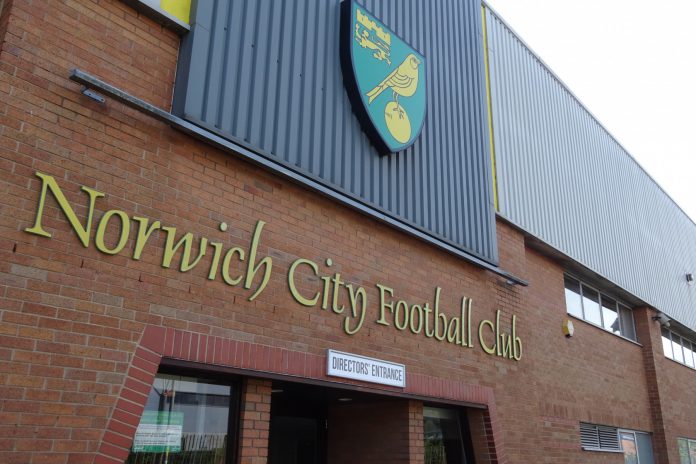 Norwich City has received a boost to its Carrow Road expansion plans following the confirmation that it has purchased the land around its stadium.
Ben Kensell, Norwich's chief operating officer, confirmed the purchase of the land at the club's annual general meeting and addressed the funding for the expansion as he explained the club would use the profits earned from its Premier League return.
Kensell explained to stakeholders that the two plots of land purchased are located adjacent to Carrow Road's City and Barclay stands. He stated: "We have a strip between the City Stand and Koblenz Avenue. That would allow us to erect a stand because you are not allowed to do that and hang over a piece of land you don't own. 
"The idea then is to adopt Carrow Road, so you could have ownership of the road. The other piece of land is directly behind the Barclay and that allows us to stop up the whole of Carrow Road."
The profits discussed by Kensall total an estimated £16m following promotion to the Premier League and is projected despite the club having registered a loss of £33m only last season when it was still competing in the English Football League Championship. 
As well as its uptake in revenue due to its status as a Premier League club, Norwich's commercial income has risen to over £8m and is expected to almost double by the end of the 2019/20 season.
Kensell continued: "It represented excellent value, so we took that opportunity for the club. What that now does is allow us to pull together a true feasibility study for what we need to do over the next three to five years, but we can now deliver against those plans because we have the footprint around the stadium.
"Previously we did not. What we don't want to do is deliver pipe dreams, we want to deliver achievable aims as part of the club's plan to grow. It is all part of a longer-term master plan. As a self-funded club, we need a strategy to move forward on and off the pitch."
Although not offering a fixed figure, Kensell also revealed that the cost of purchase for the land fell 'way under' £500,000 which pales in comparison to the clubs total estimated income at the end of the season which rounds off at around £126m – This could yet increase further depending on the league position that the club finishes in. 
Norwich currently occupy one of three relegation places in the Premier League table as they sit in 19th place and three points from safety.