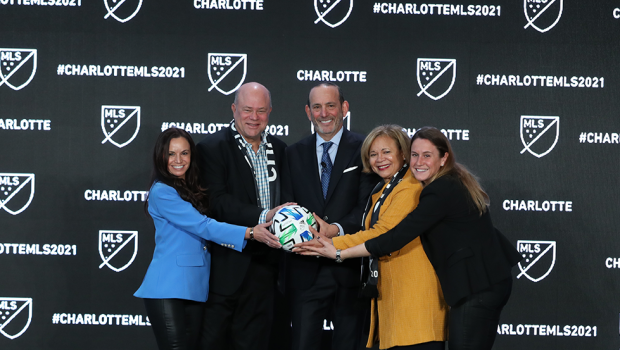 Charlotte, North Carolina has been officially announced as the home of the 30th Major League Soccer (MLS) expansion franchise. 
The announcement, which has been long rumoured, sees Carolina Panthers owner David Tepper secure what many believe to be the MLS's final expansion slot following his $325m purchase of the franchise. 
As a result, the Charlotte-based franchise will begin competing in the MLS as of 2021 where it will share the 75,000-seater Bank of America Stadium with current occupants the Carolina Panthers.
MLS commissioner Don Garber commented: "During the last two decades, Charlotte has experienced enormous energy and growth, which matches soccer's explosive rise in popularity in the United States.
"We are pleased to add David Tepper to our ownership group and look forward to working with him and his entire organisation to launch Major League Soccer in the Carolinas in 2021."
The confirmation of Charlotte's franchise being awarded the MLS's 30th expansion slot follows the city council's $110m pledge to aid the securing of the slot and also marks a quick turnaround since Tepper first stated his intention of joining the US's premier soccer competition.
Tepper added: "The awarding of an expansion team for Charlotte by Major League Soccer is a proud moment and significant for Charlotte and everyone in our community.
"I've made clear for a long time that I have two goals as a team owner: sustained winning on the field and making a difference in the community. These will be our goals with Charlotte's MLS team, and the work begins today."
It is yet unclear as to whether or not the MLS will expand the league beyond 30 franchises, however, the competition has made revisions in the past regarding its franchise expansion target, most recently in April. 
At the time, the league announced it had revised its expansion plans to 30 teams before awarding expansion slots to St Louis and Sacramento, with the seeming final slot now being awarded to Charlotte following Teppers increased efforts in which he discussed potential plans such as the renovation of the Bank of America Stadium as well as the construction of a new dome arena in uptown Charlotte within the next decade.
FC Cincinnati is the latest expansion franchise to integrate into the league as it became the 24th team in the recently concluded MLS season. Inter Miami FC and Nashville SC are set to follow in 2020 with Austin FC scheduled for a 2021 debut.