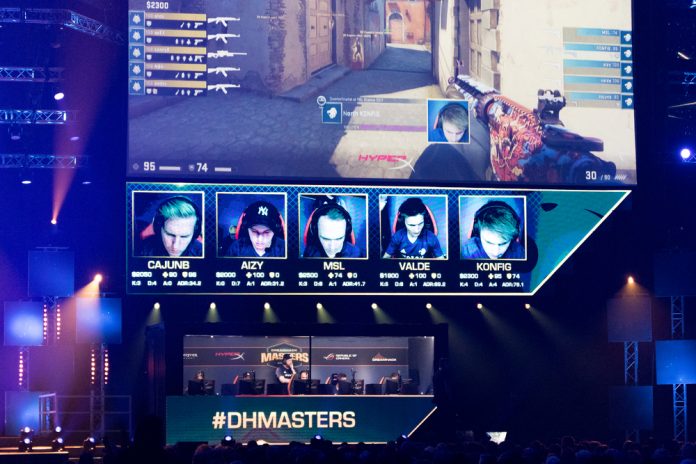 From sponsorships to industry-wide announcements, Insider Sport has you covered when it comes to the world of esports.
This week's edition takes a look at Betway sponsoring a major CS:GO event, Midwest Esports' rebranding, and T1's investment in Mobalytics
Betway becomes an official DreamHack sponsor
Online sportsbook Betway has been announced as an official sponsor for DreamHack Master Spring, one of the organiser's biggest Counter-Strike: Global Offensive (CS:GO) events.
The partnership, which officially coincided with DreamHack Masters Spring commencing yesterday, sees several participating teams being sponsored by Betway until its conclusion on 17 June.
Adam Savinson, Head of Esports at Betway, commented "At Betway we are thrilled to be adding DreamHack Masters Spring to our portfolio of top tier esports events. It reinforces our strong commitment to the scene and we look forward to being part of such a legendary tournament."
This isn't Betway's first foray into esports with the bookmaker taking pride in being a prominent esports betting operator. The sportsbook has previously sponsored teams such as BIG and Ninjas in Pyjamas, whilst also partnering with organisers such as ESL and BLAST. 
Roger Lodewick, Co-CEO of DreamHack, added: "Ahead of the forthcoming DreamHack Masters Spring, we are excited to expand our list of strong partners by entering into partnership with Betway. This is a strong commitment not only to DreamHack, but to the CS:GO community in these challenging times where we shift from offline to online tournament play."
Along with successfully moving its premier CS:GO event to an online space, DreamHack has recently partnered with Riot Games to create a brand new League of Legends competition, the NLC, for the UK and Nordic regions.
T1 invests in esports analytics firm Mobalytics
Esports powerhouse T1 Entertainment and Sports has revealed it has invested in competitive gaming analytics company Mobalytics.
The start-up firm is designed to improve player performance across a variety of Riot Games owned titles. T1's investment will go towards developing Mobalytics new Valorant training programme, Riot's most recent game. 
Joe Marsh, CEO of T1, emphasised: "All of our players, coaches, and teams across the T1 portfolio rely on in-game analytics, which is why we thought it was so important to invest in Mobalytics. We are especially excited to collaborate with the Mobalytics team to help build out new training programs for Valorant so we can continue to see talent develop and grow within Riot's new title."
Amine Issa, Founder of Mobalytics, added "We are very excited to be working with T1 and learn from elite staff and players like Faker and Brax, and elevate the way they train. Our goal is to deliver value not only to pros and aspiring professionals, but to every player that wants to level up their game."
With T1 being official partners of Mobalytics, the analytical firm will be supporting the esports organisation League of Legends team along with its Valorant project. Mobalytics is also expected to continue its work on developing its remaining titles, TeamFight Tactics and Legends of Runeterra.
IESF unites with WESCO to unite the esports industry
The International Esports Federation (IESF) and the World Esports Consortium (WESCO) have both committed to promote unity within the industry following the signing of a memorandum.
The partnership is part of IESF's plan to create a sustainable esports ecosystem in which all stakeholders and benefactors will be included in. The federation has continued to partner with various esports associations during the global health pandemic to ensure that the sector remains united. 
Vlad Marinescu, IESF's new president after Colin Webster stepped down, stated: "Our target at the IESF is unification, collaboration, and recognition. This agreement achieves the three objectives, all at the same time. I'd like to congratulate and thank Mr. Cossi for his contribution to esports thus far. WESCO and the IESF will work together on various programs around the world that'll achieve positive benefits for all stakeholders.
"We are looking forward to collaborating with more entities that have the same objectives as IESF which are to protect esports athletes, ensure mental health and promote physical health as well, and also the recognition of esports as a sport globally via the international federation and nationally via the national associations through a partnership with each country's sports authority."
The IESF was founded in 2008 and has since gone on to be one of the sector's biggest international esports associations. 
Midwest Esports find a new identity as UEA
Esports holding company Midwest Esports has rebranded to Unified Esports Association (UEA) as the firm continues to develop and increase its number of acquisitions.
The firm has a vast array of esports products and services including the Community Esports League, the Midwest Esports Conference and Upsurge Esports. 
Ramsey Jamoul, CEO and Founder of the Unified Esports Association, commented: "Midwest Esports has made tremendous business strides, especially with recent acquisitions and leadership, and needed to establish an overarching company that reflected our elevated services, competitive offerings and thought leadership under a unified strategic vision. In addition to our products, we'll be announcing several key executive initiatives in the near future. We are fully committed to being a coveted partner among gamers, spectators, communities and sponsors, alike." 
Along with the company rebrand, all of the firm's digital, social and traditional channels have been revamped to incorporate the brand's new identity.