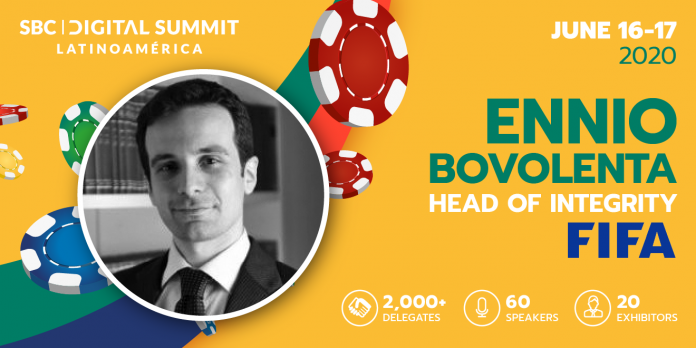 SBC Digital Summit Latinoamérica is to open with keynotes from both FIFA and CONMEBOL, as the governing bodies use the virtual conference and exhibition to detail their work to preserve the integrity of football.
The two-day betting and gaming industry trade show gets underway on 16 June 2020 with the event keynote, which will be delivered by Ennio Bovolenta, FIFA's Head of Integrity.
His presentation will be followed by the first of four conference tracks, 'Sports Betting in Focus'. That will kick-off with a keynote titled 'Ensuring Integrity in Latin American Sports Betting', presented by CONMEBOL's Ethics & Compliance Officer Graciela Garay and Integrity Officer Julio Lansac.
The governing bodies chose to participate in SBC Digital Summit Latinoamérica as a way to engage with an audience of senior gambling sector executives and share their message about the crucial role of integrity to both the sports and betting industries.
Bovolenta said: "The integrity of football is an essential component to the overall success and continued growth and credibility of the beautiful game. As part of FIFA's ongoing work sharing knowledge and best practice to protect the integrity of football, we look forward to taking part in the SBC Digital Summit Latinoamérica and addressing a range of important topics in this area currently affecting the sports industry.
"SBC Digital Summit Latinoamérica will provide an opportunity to engage with many leading executives from around the world and will be a positive platform for sharing how FIFA is working alongside local, national and international stakeholders to protect the integrity of football, as well as the various education and prevention programmes we have in place to fight match manipulation in football."
Rasmus Sojmark, Founder & CEO of event organiser SBC, said: "We're delighted to welcome three such prestigious speakers from the world of professional sport to our first dedicated Latin American event.
"Our audience will be fascinated to hear what they have to say about their work to combat match fixing, as the issue is crucial to the success of the sports betting industry."
SBC Digital Summit Latinoamérica, the largest online event for the betting and gaming industry in the region, will use an advanced technological platform to replicate the key benefits of a physical trade show and make them accessible to delegates from their homes and offices. 
Attendees can look forward to a four-track conference, with 60 high-level speakers from operators, regulators and suppliers sharing ideas for the future of both the online and land-based gambling industry in Latin America. 
The content will be supplemented by a programme of themed networking sessions that will help delegates to connect with people with shared business interests. The event platform also includes chat and email facilities for one-to-one discussions, along with a Virtual Networking Bar for group discussions. 
The event's 20-booth interactive exhibition, which features leading suppliers showcasing their latest innovations, will provide further opportunities for operators and suppliers to connect. The set-up is designed to help the industry to continue doing business during this period when travel and face-to-face meetings are almost impossible to arrange. 
Find full details of SBC Digital Summit Latinoamérica, including information about how to secure a complimentary ticket by registering in advance, at the event's official website: https://sbcevents.com/sbc-digital-summit-latinoamerica/