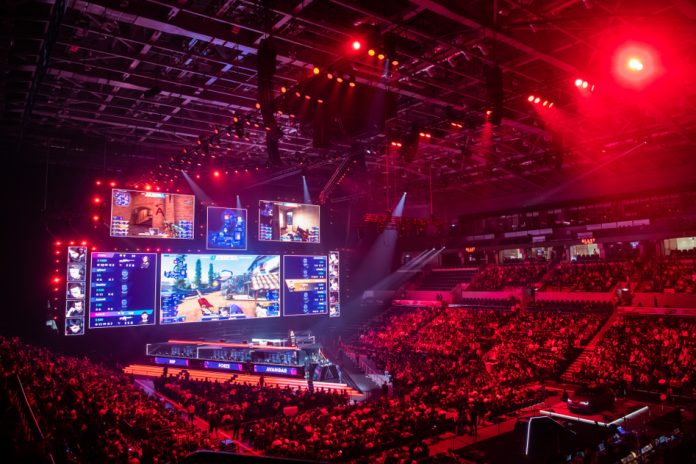 From sponsorships to industry-wide announcements, Insider Sport has you covered when it comes to the world of esports.
This week's edition takes a look at World Taekwondo and ITF embracing esports, Vodafone Giants' Red Bull partnership, and BBC airing League of Legends.

World Taekwondo and ITF join The Global Esports Federation (GEF)
World Taekwondo and the International Tennis Federation (ITF) have been confirmed as official members of the Global Esports Federation (GEF) in a bid to enhance 'active esports', or sports simulated titles.
Active esports are titles that showcase physical movement and use virtual and augmented reality, similarly to what was showcased in Formula 1's recent Virtual Grand Prix Series.
Chris Chan, President of the Global Esports Federation, stated: "The Global Esports Federation was established to convene the global esports community and celebrate esports. We have experienced an incredible acceleration in our engagement with the world's International Federations during this unprecedented time. The state of play for sport is progressing rapidly."
Dr. Chungwon Choue, President of World Taekwondo, added: "We are thrilled to be an active member for the development of active esports. Now more than ever, we need to embrace technological advancement and promote healthy and active lifestyles around the world."
It was also announced that Refract will be GEF's global partner for interactive technology, with the firm set to develop a variety of technologies designed to support the 'active esports movement'.
Michael Chng, CEO of Refract, concluded: "Refract believes the gap of physical activity between video games and traditional sports can be bridged by technology. We are developing technologies for a future where playing video games and being physically active are not mutually exclusive."
The news follows last month's announcement that the Commonwealth Games Federation (CGF) had agreed an exploratory partnership with the GEF in order to develop a Commonwealth Esports strategy.

BLAST and TW Steel create 'the world's first esports watch'
Esports entertainment company BLAST has partnered with Dutch watchmaker TW Steel to collaboratively create 'the world's first esports watch'.
TW Steel's inspiration behind the watch design is Counter-Strike: Global Offensive and merged it with 'elements that the Dutch watch brand have become renowned for over recent years – design, attitude and Swiss quality standard'. 
Leo Matlock, Commercial Director for BLAST, commented: "We're hugely excited to be able to join forces with TW Steel to offer the first ever esports watch. Counter-Strike and esports lovers will be proud to own and show-off a piece of gaming history while owning a highly functional and reliable watch that pays tribute to their favourite game. 
"BLAST has activated and teamed with a diverse range of commercial partners recently, which is testament to our ambition to become a multifaceted esports company – this innovative and industry leading collaboration with TW Steel is further proof we're on the right track to achieving that aim."

Watches will be available in two options, Maverick Chronograph, which includes a Super Luminova Counter Strike-inspired crosshair, all black design and a BLAST logo. The second option, Volante, features a Counter-Strike-inspired map design etched into the watchface.

Jordy Cobelens, CEO of TW Steel, emphasised: "We are all about creating exciting moments at TW Steel so joining forces with BLAST is perfect for us. We share a passion for action and timing, we speak the same language. 
"We're looking forward to making a big statement together. When you see how we incorporated both worlds in our two special edition watches, I'm very confident we'll create big things in the future."

Vodafone Giants takes off with new Red Bull deal

Vodafone Giants has secured energy drink brand Red Bull as its latest partner, further adding to its sponsorship portfolio.

The agreement expands on the organisation's current deal, with the company also sponsoring being the Spanish organisations headquarters in Barcelona. As a result of the new deal, Red Bull has become Vodafone Giants' official energy drink.
José Ramón Díaz, CEO of Giants Gaming, stated the partnership is  "one more step in the evolution of our brand, since having a company like Red Bull by our side, which is the world's leading exponent of sports sponsorship, is another confirmation of the club's growth."
As part of the deal, promotional activities across social media and broadcasts will be created by the two brands, specifically focusing on the esports organisation fighting titles. This aligns with Red Bulls deal with the Giants Fighter Dojo which is solely focused on the fighting sector.
A Red Bull Spain spokesperson added: "The beginning of this agreement with Vodafone Giants reassures the company's commitment to the esports sector, we cannot imagine a better travel companion for our journey through a market niche that will grow dramatically in the upcoming years."

As alluded to earlier, RedBull joins Giants' expanding sponsorship portfolio which already  includes Vodafone, Nike, Chupa Chups, and Font Vella.
BBC agrees deal to air Regional League of Legends 
The Northern League of Legends Championship (NLC) and the UK League Championship (UKLC) will be broadcast on the BBC iPlayer and BBC Sport app after agreeing a deal with the national broadcaster.

Ben Gallop, Head of Digital at BBC Sport, commented: "When it comes to esports, it doesn't come much bigger than League of Legends and we're very excited to see all teams in action throughout this summer period. Along with all the live sport that is about to resume on the BBC soon, this coverage over the coming weeks shows our ongoing commitment to esports."
The NLC is a regional competition which features competitors from Finland, Norway, Denmark, Sweden, and the UK and Ireland, with the competition one of Riot Games' regional leagues. Additionally the UKLC is in the second tier of NLC's pyramid system with its teams consisting entirely of UK and Ireland organisations.

The NLC is currently owned by DreamHack after the organisers agreed a three year deal with Riot Games. Moreover, Barclays is also a major partner of the UKLC after the bank secured a headline sponsorship of the UK's 'second division'.

BBC's pick-up of another esports title highlights how important the broadcaster sees the sector, especially with its mainly younger demographic range. Along with League of Legends, BBC will also air the Rocket League European Spring Series, whilst also previously securing partnerships with sim racing titles.