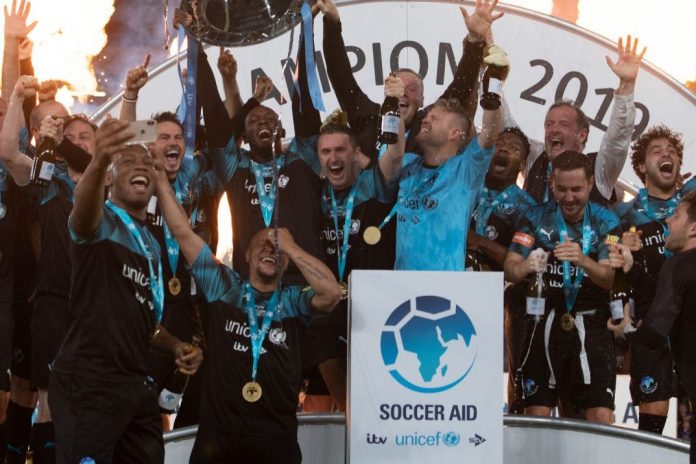 Soccer Aid for Unicef has named Puma, Primark, JD Sports and TikTok as its principal partners for September's Old Trafford fixture, which will be played behind closed doors.
As part of the collaboration, TikTok will deliver a campaign leading up to the showcase which has been designed to 'engage fans and bring them closer to the action'. Moreover, the short-form video platform will feature on the Soccer Aid World XI FC shirt sleeves as well as gaining branding space on the LED perimeter boards during the match.
Rich Waterworth, General Manager UK, TikTok, commented: "Soccer Aid for Unicef has become a mainstay in the sports entertainment calendar and at TikTok we are really looking forward to supporting the event. The match brings together some of the most recognisable celebrity and football talent around and is always hugely popular. 
"As the game is being played behind closed doors this year, fans will be able to get as close to the action as possible with a hashtag challenge and behind the scenes content through our LIVE function."
Puma will once again provide the Soccer Aid World XI FC kit whilst for the fourth consecutive event JD Sports will partner with the football showcase. 
The sports-fashion retail company will be featured prominently throughout Soccer Aid's marketing campaign leading up to the match and also during the game. Additionally, for the first time in the events history the JD Sports logo will feature as part of the back-of-shirt lettering on the Soccer Aid for Unicef World XI kit.
Peter Cowgill, Executive Chairman, JD Sports added: "JD Sports are delighted to have extended this long standing relationship with Soccer Aid for Unicef. We are all looking forward to September's match and to supporting the campaign in the weeks leading up to it."
Regarding Primark, the clothing brand has celebrated its new partnership with the Soccer Aid for Unicef by donating £100,000 in support of UNICEF's work helping children and families impacted by Coronavirus. The fashion retailer will also be featured heavily across the Soccer Aid for Unicef marketing inventory, including LED perimeter board space during the in-game.
This partnership news follows on from the announcement that Jason Manford, Patrice Evra, Olly Murs and Kelly Smith MBE are among the first set of players announced for the event. The programme will be broadcast exclusively live on ITV and STV.
Kenneth Shepherd, Executive Director, Soccer Aid Productions, concluded: "We are delighted to welcome Puma, Primark, JD Sports and TikTok as Soccer Aid for Unicef 2020 Principal Partners – they are all leaders in their respective fields. Not only will our Partners help to raise global awareness of our event but also add creatively to the overall marketing campaign in the run-up to the match.
"Details on the more creative elements will be announced shortly but suffice to say, we are hoping to bring fans as close to the match as possible digitally given they can't join us this year. Finally, I would like to underline that the support and generosity of our Partners is invaluable and working with them allows us to raise important funds for Unicef."