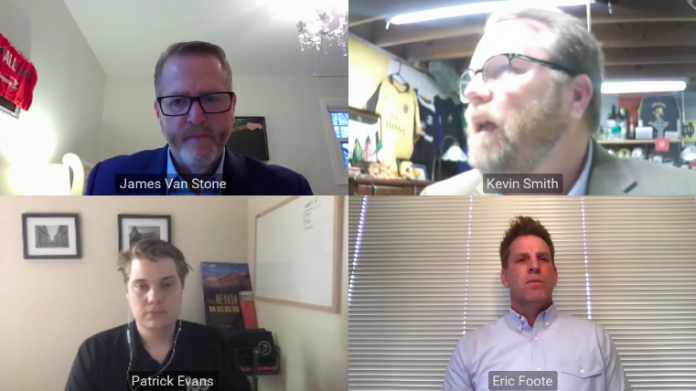 As more states are added to the list of jurisdictions in the United States of America where sports betting is now legal and fully operational, betting companies have made a foray into the world of sports organisations, identifying an inventory for a 'whole new revenue stream'.
Speaking as part of the 'Betting Brands – Good Business for Teams and Venues' webinar ahead of next month's Betting on Sports America Digital, discussions focused on some of the ways in which different companies have reaped the rewards of such partnerships and acted as a force for good within the industry.
Patrick Evans, a reporter at Front Office Sports, focused his attention on the declining cable television figures, suggesting that this is down to a younger demographic turning to mobile applications and streaming platforms to consume sports and entertainment.
"I feel that not embracing sports betting will turn engagement off, which I think is why this is so big right now as we're seeing broadcast ratings crater. There were so many sports at one time and I don't know how much of that are these new streaming platforms and how much of that is social justice awareness."
He also highlighted that the younger generation have a shorter attention span, hence the need to persist with in-game wagering features to retain their interest: "When you start integrating in sports betting odds or whatever you want to integrate into broadcast, I think that starts to provide a second screen opportunity. If you're just watching TV and you've got Twitter up then you're distracted from it.
"We've seen plenty of studies and demographic info saying that younger audiences don't like sports as much as the older audiences. I think a lot of that has to do with how much they're on their phone and not actually watching sports or just doing other things.
"So I think the more you kind of build a whole ecosystem and keep people on there, then you're keeping that back and forth and keeping people engaged so there's an opportunity there."
President of Business Operations and Chief Commercial Officer at Monumental Sports and Entertainment, James Van Stone's media company partnered with the NBC Sports Washington network, running a second pilot programme to encourage engagement with younger target audiences, which has enjoyed some early success.
Van Stone explained that there is often a clash in fixtures between two of the US state's biggest sporting franchises: National Basketball Association's (NBA) Washington Wizards and National Hockey League's (NHL) Washington Capitals. The introduction of an additional channel will provide a balance between the two.
"We actually put a predict-a-game skin on the second channel and had it look like a betting channel from that standpoint," he said. "It was free to play it and it was a great opportunity.
"I think one of the things that we were really pleased about is that we didn't see any drop in ratings from our primary channel to the secondary channels so we thought it was a great engagement opportunity
"We thought it was also a fantastic platform to educate people on the opportunity and I think with this being such a new industry and the teams and the organisations that we've talked to, education is a big part of what they want to do to continue to build this industry so for us, it was a great test and we're going to do more games in that platform as we move forward."
Kevin Smith, Director of Marketing North America for SBC, concurred that sports betting was once 'a thing of the past' in the country, but 'wager-tainment' could transform the experience of betting on sports for young people.
"We know that sport [baseball] is bleeding the younger demographic and they're losing the younger demographic so that could be a saving grace for them," he remarked.
"The industry is in a growth period as jurisdictions ramp up. North Dakota, Louisiana and Maryland have passed bills last week on the election so we're now on 24 states plus DC so nearly half the country. I think most people feel that in another two or three years, we'll basically have 40+ states.
"From the NFL perspective, they are certainly more willing to embrace this than they would've been a year or two ago but they also have data that shows 20% of their fans are adamantly opposed to sports betting so they have to walk that fine line of embracing it but not turning off a segment of their fanbase as well."
Additionally, the importance of the values of 'trust and credibility' when building an online bookmaker were also picked out by Eric Foote, Chief Commercial Officer at PointsBet USA.
The Australian-based operator moved its base to the USA approximately five years ago and set its sight on a deal with local flagship college, the University of Colorado Boulder, which aims to provide opportunities for undergraduate students within the university, as well as reaping the rewards of the sponsorship.
"This was something we had our eye on from day one when we realised we were moving our headquarters in the US to Denver, Colorado," Foote explained. "Taking an understanding and knowing what University of Colorado Boulder offers from a sports perspective and athletic department but secondly, the university and the rich talent.
"We just opened a brand new office two weeks ago with up to 250 individuals with a very large focus on product and technology because we own that front to back, but having that pipeline, not only into the current student athletes, but also into the larger student body.
"A large portion of our investment there goes towards the Learning Career Development Programme and also goes to guest guest lecturing and speaking at the engineer school. The business school also goes to career fairs for HR on recruiting teams so there's a clear focus."