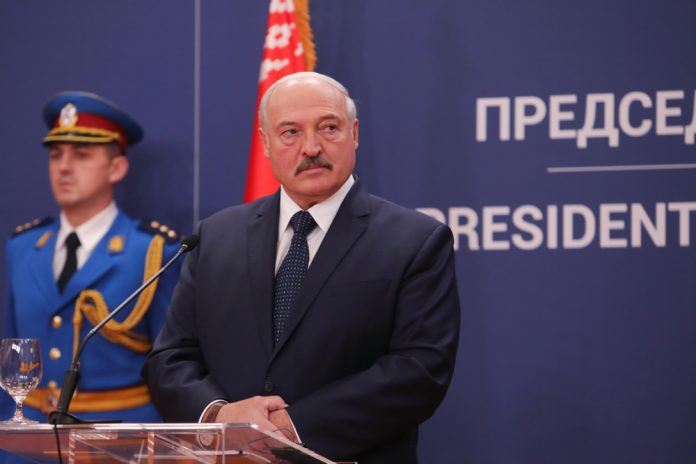 Sponsors of the 2021 Ice Hockey World Championship have threatened to pull out of the tournament if it is staged in Belarus and Latvia as planned, because of Belarus' human rights record.
The International Ice Hockey Federation (IIHF) is set to make a decision later this week about whether to strip Belarus of it's co-hosting rights, as more of its top tier and second tier sponsors fall by the wayside.
The major tournament would be the biggest event that the country has hosted since President Alexander Lukashenko came into power in 1994.
German car oil company Liqui Moly warned that it will terminate its sponsorship agreement if the tournament, which is scheduled for May and June, stays in Minsk, Belarus.
The manufacturer released a statement which read: "Liqui Moly is committed to fairness, respect, freedom and the protection and respect of human rights. The current situation in Belarus as well as the politics of the government, the treatment of demonstrators and obvious violations of human rights in Belarus deeply contradict Liqui Moly's convictions and values.
"For this reason, Liqui Moly will cancel its sponsoring of the hockey world championship if the IIHF committee holds on to the decision to let take place the competitions in Belarus."
The competition's main sponsor Skoda has already said that it will be withdrawing its support if the tournament stays in Belarus, which would be a huge blow to the IIHF.
The carmaker said on Twitter: "We've been a proud partner for 28 years. But we also respect and promote all human rights. Therefore, Skoda will withdraw from sponsoring the 2021 IIHF Ice Hockey World Championship if Belarus is confirmed to be co-hosting the event."
The Nivea Men skincare brand also took to social media to share its views on the situation, reiterating that it would not pledge its support to the competition if it remained in Belarus.
American senator Dick Durbin, Congressman Mike Quigley and European Parliament member and former ice hockey player Peter Šťastný, all penned a letter to the IIHF calling for the competition to be pulled from Belarus.
The letter stated: "We write to urge the IIHF to suspend its 2014 Ice Hockey Championship in Minsk, Belarus until that country's long-time dictator, Alexander Lukashenko, releases all the country's political prisoners, many of which were arrested during the country's recent Presidential election.
"Accordingly, we urge you to consider such action to ensure that Lukashenko's totalitarian nightmare does not receive the international sanction or legitimacy that would be conveyed by hosting the 2014 Championship."