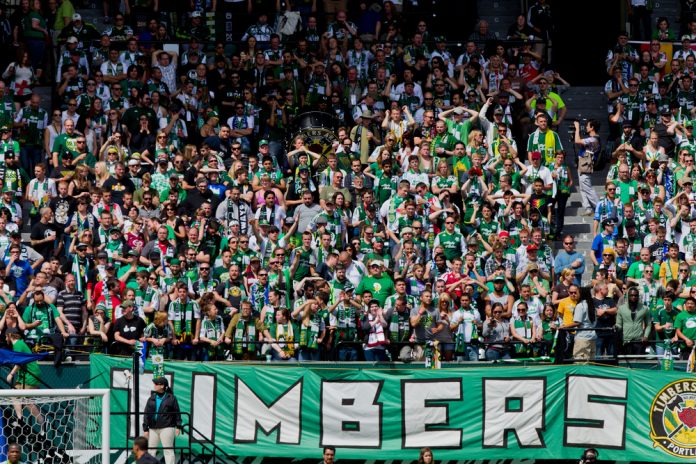 TikTok has added two American soccer partners to its expanding sponsorship portfolio, building on existing agreements in both the US and Europe.
The multiyear agreements with the Portland Tinders of Major League Soccer and Portland Thorns of the National Women's Soccer League will see the social media platform become the official sleeve sponsor of both clubs.
Athletes from the sister teams will create content on TikTok as club ambassadors and influencers, and both will launch official accounts on the platform, producing weekly content such as behind-the scenes footage and in-match footage, highlights reels, player and fan reactions and mascots.
"TikTok is one of the world's leading content and entertainment platforms and we are thrilled to be partnering with such a dynamic global brand," remarkedMike Golub, Timbers and Thorns president of business.
"The partnership is ground breaking to have equal TikTok representation on both Timbers and Thorns jersey sleeves, and it will give us a unique ability to create and distribute content in collaboration with TikTok. 
"We are very proud that TikTok chose our clubs as two of their first team sponsorship deals in the US."
Additional features of the partnership include TikTok branding appearing at several club areas at Providence Park, the home stadium of franchises, as well as on virtual signage and digital platforms.
Furthermore, a unique caveat of the deal will see the network's logo appear on the front of Timbers mascot Timber Joey's jersey on game days and at community events.
"We are delighted to partner with two world-class soccer teams that are leaders in their communities both on and off the field. We strongly feel that gender equity in sports is crucial to changing perceptions and progressing for the better as a society," said Harish Sarma, TikTok, director of global strategic partnerships in Americas and Oceania.
"The Portland Timbers and Thorns share this belief, and we are proud that our first soccer team partnership in the US places an equal emphasis on female athletes."
Although the agreement marks the first time TikTok has secured a jersey sponsorship, the platform has been significantly expanding its sporting presence of late.
Notable partnerships include fan engagement deals with the Ultimate Fighting Championship (UFC) and Manchester United FC of the Premier League, whilst the firm has also been announced as the global sponsor of the upcoming UEFA European Championship.