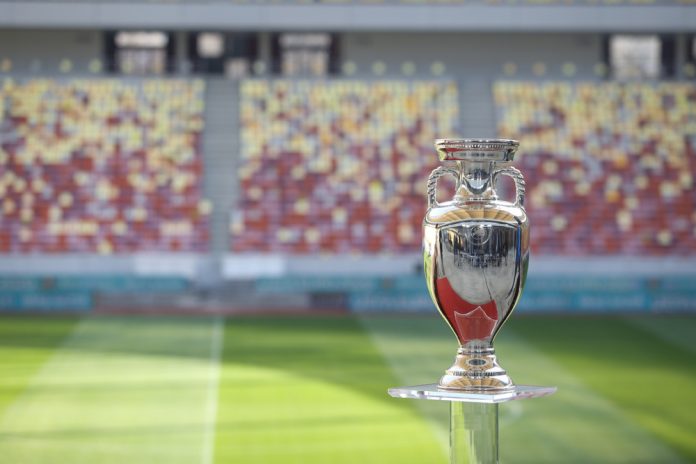 Football fans may be able to travel to international fixtures at this year's rescheduled European Championships, UEFA's Medical Advisor on the tournament, Dr Daniel Koch, has suggested.
Last week, UK Prime Minister, Boris Johnson, confirmed that fans would be able to return to stadiums from 17 May under the new four-step roadmap to exit lockdown. The target date coincides with various major sporting events, including the European Championships, giving supporters hope that they might be able to attend.
The 24-nation tournament kicks off at Stadio Olimpico in Rome on 11 June and concludes on 11 July.
Despite calls for UEFA to select a single location to stage the tournament, the governing body opted to stand by the original multi-city format to mark the European Championships' 60th anniversary.
Koch reaffirmed that there must be some 'flexibility' surrounding the Euros and that a decision is likely to be made in April on spectators. However, he said that fans might be able to travel overseas to watch the competition, advising UEFA to 'plan in an optimistic way'.
"There is no way the Euros will not happen, they will happen," Koch told Reuters. "There is no worst-case scenario, there are realistic scenarios and best-case scenarios.
He added on the possibility of international travel: "It is too early to say. We will see what the situation is and what is the requirement from the different countries but I hope that at least some travelling will be possible because it is not travelling, in the end, that makes the real difference.
"For sure, every country has tried to protect itself but travel restrictions are not the main issue. The main issue is to keep this (virus) bound by detecting the case, finding the connections and have social distancing. But we are confident."
The governing body has asked the host countries to provide detailed stadium entry plans for the tournament, including any other issues they might like to raise.
Glasgow, Dublin, Bilbao, Amsterdam, Copenhagen, Munich, Rome, St Petersburg, Bucharest, Budapest and Baku all set to host games, along with the semi-finals and the final at Wembley Stadium in London.
Yesterday, beIN Sports Correspondent, Tancredi Palmeri, reported that England is 'very likely' to host the entire tournament, although contrasting reports have suggested that UEFA still wants to stage the Euros across the continent.
BOOM!

Euro2021 very likely to be played solely in England as UEFA are opting for the one hosting country format and England is the one they believe being in best position to do so.

Decision expected to be taken within mid-April

— Tancredi Palmeri (@tancredipalmeri) February 25, 2021
UEFA initially rebuffed the UK's offer to solely host the Euros last year after it was reported that it would be 'unfeasible' to hold the tournament across 12 cities as a result of the coronavirus outbreak.