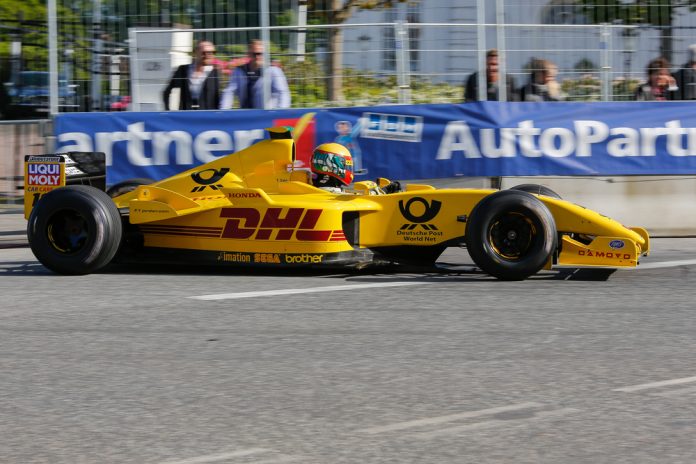 DHL has agreed an extension of its sponsorship arrangement with Formula One, which will see the international shipping company continue to serve as the longest-running global partner of the series as well as its official logistics provider.
The specialist logistics firm has been tied to Formula One since 2004 when the two parties penned an initial agreement, which was extended ahead of the 2018 season.
Under the terms of the arrangement, DHL will benefit from increased trackside branding, along with a presence in the pit lane. The company will also serve as the title sponsor to the Fastest Pit Stop and Fastest Lap awards, and up its involvement in the F1 Esports Series.
"Formula 1 has been delivering the ultimate in speed, precision and technology to its fans for over 1,000 races and it is DHL who delivers Formula 1 across the globe," remarked Arjan Sissing, Global Head of Brand Marketing at DHL Group.
"For more than four decades, our common values connected us with each other and made it possible to win any logistics races around the world, before the first tyres touch the track. We are looking forward to defending our title in each of these races between the races."
This season, Formula One has added 23 Grand Prix destinations to the race series' calendar, marking the largest number in the sport's history.
Deutsche Post-owned DHL will support the logistics division of the Formula One Management (FOM) by planning and transporting transmission technology, race cars, fuel and other equipment for race teams. The DHL Motorsports team will also book freight for air and ocean transport to 'fly-away' races for Formula One teams, managing transport documentation, customs clearance, packing and carrier duties.
Stefano Domenicali, President and Chief Executive at Formula One, added: "DHL are our longest standing global partner and we are delighted to have signed a long term partnership extension that demonstrates our strong and collaborative relationship. 
"For the past 16 years we have delivered on and off the track together and we are proud to be working with the world's leading logistics provider as we look ahead to the biggest season ever for Formula 1."
The upcoming Formula One season will commence on 28 March with the Bahrain Grand Prix, followed by three triple headers later on in the season, with three races staged over three consecutive weekends.