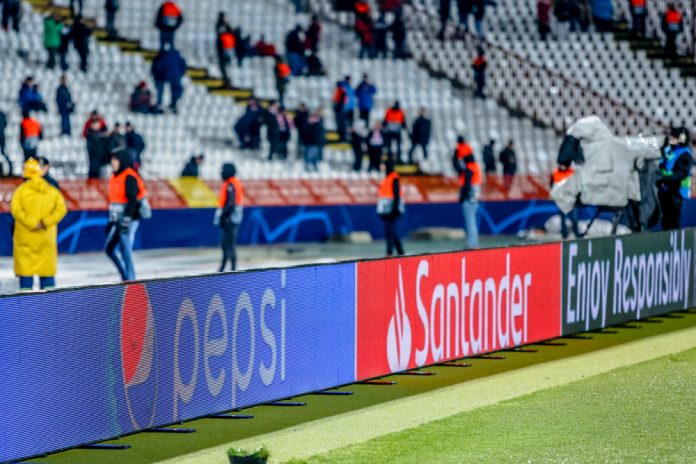 The European sponsorship market has dipped 23% as a result of the coronavirus crisis, according to the 2021 ESA Sponsorship Market Overview.
The report, conducted by European Sponsorship Association (ESA) and Nielsen Sports, found that the total value of Europe's sponsorship market dived from a record €30.69 billion in 2019 to €23.63 billion in 2020, marking the lowest figure since 2010.
However, the sports sponsorship sector witnessed a comparatively small contraction compared to non-sports rights holders, down 9% to €18.42 billion.
"Last year, most sponsors showed a high level of solidarity with their rights holders − not exclusively, but in some cases due to the fact that compensation rights could be implemented to satisfy the sponsors," noted Nielsen Sports' International Managing Director, Marco Nazzari.
"Contract extensions will probably be more challenging in the future, due to economic difficulties or reduction of marketing expenses in certain industries or companies. Much of this development in 2021 will continue to be dependent on the evolution of COVID-19. New sponsorship entrants, new channels and new fan necessities will impact the key sponsorship value drivers in 2021 and beyond."
Football continued to dominate the European market, accounting for 49% of total sponsorship agreements. Meanwhile, amid the lockdown periods, gaming and esports boomed, taking second place with 12% of total sponsorships, followed by handball, basketball and rugby union.
Furthermore, research pointed out that whilst major sports rights holders maintained and even increased sponsorship volume during the pandemic, smaller rights holders saw declines in value, with spectators banned from attending live sporting events.
Andy Westlake, Chairman of the European Sponsorship Association, added that a 'downturn was always to be expected': "There is no doubt that Europe's sponsorship community has gone through an incredibly difficult twelve months, and this is borne out in the data in our latest ESA Sponsorship Market Overview.
"However, we're already seeing some positive green shoots. The rapid roll out of the vaccine programme in many European countries means that live sport and entertainment is back on the agenda in the summer. We have also seen some real innovation in the work itself – meaning the industry is prepared like never before to build connections through sponsorship under the most challenging of conditions. We know the sponsorship sector is resilient and creative, and there is cause for renewed optimism in 2021 and beyond."
Nonetheless, Nielsen Sports' sponsorship database, SponsorGlobe, highlighted that the industry was beginning to bounce back from the effects of the pandemic, with more deals penned in the fourth quarter of 2020 than the same period in 2019.
Already this year, Manchester United negotiated what is believed to be the most lucrative deal signed by a Premier League club during the pandemic, with TeamViewer confirmed as the team's new principal shirt sponsor.