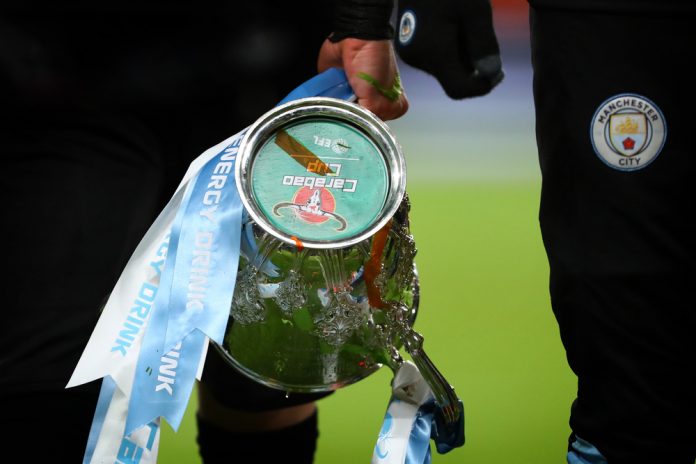 The Carabao Cup final between Manchester City and Tottenham Hotspur will accommodate 8,000 football fans as part of the pilot programme to trial the large-scale return of spectators to sporting events.
The showdown, which was pushed back in the hope that supporters would be able to attend, is scheduled for 25 April at Wembley Stadium, has been earmarked as an 'important milestone' for the sport by English Football League (EFL) Chairman, Rick Parry.
Tickets will be distributed to both competing clubs, with the remaining share to be made available to local residents and NHS staff.
Furthermore, it has also been confirmed that the FA Cup semi-final will welcome 4,000 fans through the turnstiles on 18 April as Leicester City and Southampton go head-to-head for a place in the final, which will accommodate 21,000 spectators on 15 May.
Last month, the Department for Digital, Culture, Media and Sport (DCMS) announced that one FA Cup semi-final tie would be selected to take part in the Events Research Programme's (ERP) pilot project, although it has not been confirmed how many spectators Wembley would be permitted to hold.
In addition, reports have also suggested that the aforementioned fixtures may trial a COVID passport scheme, whereby spectators will have to prove they have been vaccinated or returned a negative test.
FA Chief Executive, Mark Bullingham, stated: "We are delighted to be hosting three test events at Wembley and are confident we can offer a safe environment.
"This is an important first step towards getting fans back, with the end goal of full stadia – hopefully by the end of the men's Euros [in July]. We would like to thank all authorities for their support throughout this process."
However, the DCMS has faced backlash from supporter groups, with the Tottenham Hotspur Supporters' Trust (THST) expressing its dismay at the 'complete disregard' for fans after failing to involve the Trust in the consultation process.
A statement from the THST read: "After a long year away from football, the opportunity for supporters to watch their team in a Cup Final at Wembley is, on the face of it, great news. However, the devil will be in the detail, as always.
"We know Spurs fans will have many questions about the announcement. And we would like to provide answers. But we can't. Because none of the decision makers have consulted with or even spoken to supporter groups at either competing club, or to the national fan organisation, ahead of today's statement."