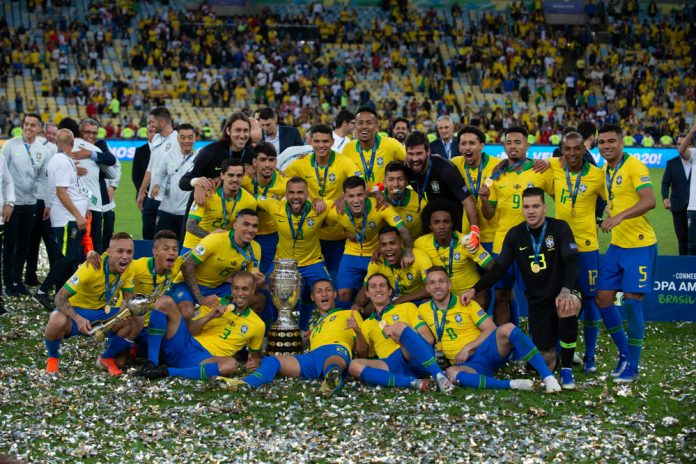 Brazil has been selected as the new host of the upcoming Copa America football tournament, following decisions by co-hosts Argentina and Colombia to withdraw from staging the competition this summer.
The tournament, which was postponed by 12 months last year due to the outbreak of the coronavirus, is scheduled to take place from 13 June to 10 July and was due to take place in Colombia and Argentina, before the former pulled out due to its ongoing political situation.
With just 13 days until the competition gets underway, CONMEBOL confirmed that Argentina had been forced to step back due to rising COVID-19 cases and would be switched out by reigning champions Brazil, which won the 2019 edition of the Copa America, with host cities set to be confirmed in due course.
"The oldest national team tournament in the world will make the whole continent vibrate," the South American football federation posted on Twitter, whilst thanking Brazilian President, Jair Bolsonaro, for his 'immediate support'.
Colombia and Argentina were set to jointly host the tournament for the first time in its 105-year history until 'present circumstances', including social and economic protests, meant Colombia was relieved of its hosting duties.
In Argentina, the government introduced a new, stricter lockdown after the country's COVID-19 death toll reached 76,693 at the weekend, according to data published by the World Health Organization.
"With so many cases, we couldn't go ahead with the organisation of a championship like this," explained Santiago Cafiero, the Argentine government's Cabinet Chief. "We had committed to organising it, we tried to keep our promise, but the epidemiological reality prevented us."
However, Brazil maintains one of the highest coronavirus death tolls, only second to the US, and demonstrations across at least 16 cities took place over President Bolsonaro's handling of the pandemic.
Moreover, Latin America and the Caribbean accounts for 30% of all global fatalities as a result of the health crisis.
"The Brazilian government demonstrated agility and decision-making capacity at a fundamental moment for South American football," said CONMEBOL President, Alejandro Dominguez.
"Brazil is experiencing a moment of stability, it has proven infrastructure and accumulated experience and recently to organise a competition of this magnitude."