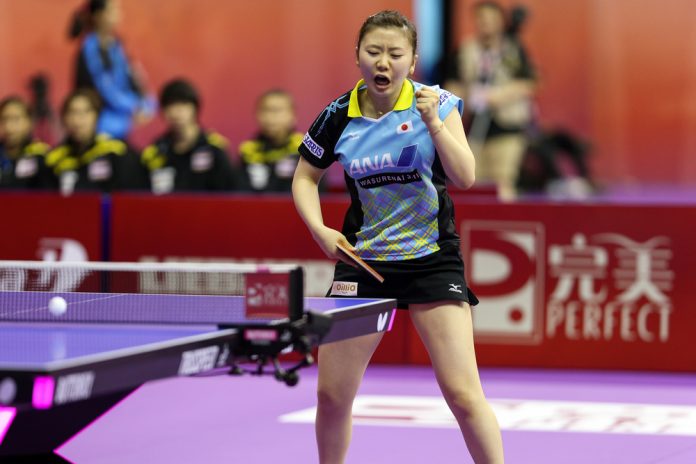 World Table Tennis (WTT) has appointed Ai Fukuhara as the organisation's first-ever General Manager in Japan.
The ex-table tennis player and Olympic medalist will look to create tournament opportunities, drive sponsorship and investment efforts, supporting the sport's growth, and boost media rights sales in the country.
"We are delighted to start this collaboration with one of the most iconic players of her generation," commented Steve Dainton, ITTF Group CEO and WTT Director.
"We believe there are many opportunities to be seized in Japan, and we would like to see a WTT event hosted in Japan soon. Ai is the right person to help us achieve our goals, and we are looking forward to further growing table tennis together."
WTT has stated that Japan is the second biggest table tennis market, with several players in the Top 10 and a new generation coming through on the world stage.
On her new role, Fukuhara stated: "I have been involved in table tennis as a player till now, and I am thrilled WTT has recognised my results and experience. As WTT Japan General Manager, I'll be able to support the players and the table tennis family from a different angle and perspective, and I hope to be able to liven up the sport.
"I feel that the WTT events are really player-centric, which will benefit the players greatly. Moreover, the competition setting now is truly exciting. And I think that's an excellent thing."
Fukuhara turned professional at age ten and became the youngest player to play for the national team. A four-time Olympian, she won a team silver medal at the Olympic Games London 2012, which was Japan's first-ever Olympic medal in the sport.
Prior to her retirement from competition in October 2018, she also took bronze at Rio 2016 and won six world championship medals throughout her career.
WTT has recently announced a partnership with Eclat Media Group, which allows people to watch the tournament in the following markets: Brunei, Cambodia, Timor Leste, Hong Kong, Indonesia, Laos, Malaysia, Macau , Mongolia, Myanmar, Philippines, Singapore, Thailand and Vietnam.
This collaboration sees WTT and SPOTV work together in a bid to reach new audiences across a region of over 670 million people.