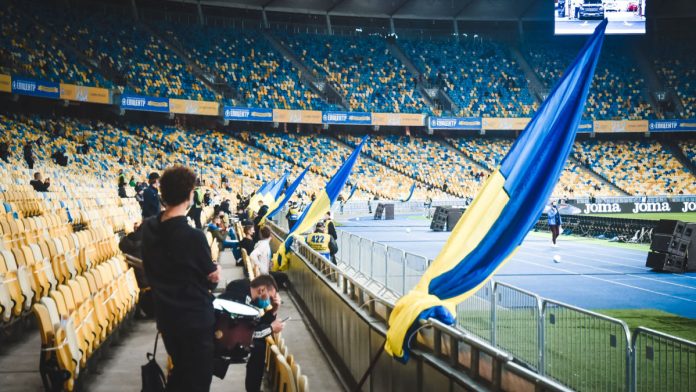 The bidding contest for the 2030 World Cup has gained another contender, as Spain announces the inclusion of Ukraine in its joint venture with Portugal.
A statement from the Royal Spanish Football Federation (REFF) today confirmed that its World Cup partnership with the Portuguese Football Federation (FPF) had been extended to include the Ukrainian Football Association (UAF).
Spanish football authorities state that the bid's existing roadmap will not be altered as a result of Ukraine's addition, with Spain planning to host eleven venues and Portugal three.
The bid comes amid the ongoing war in Ukraine, as Russia's invasion of its western neighbour enters its eighth month, with four regions the east of the country recently annexed by Vladimir Putin after several referenda widely condemned as shams.
An REFF statement read. "The candidacy strengthens ties with Europe by generating hope and providing reconstruction tools to the Ukrainian people, who have expressed their pride and gratitude for participating in this project."
Luis Rubiales and Fernando Gomes, respective Presidents of the REFF and FPF, stated that they aim to 'build bridges and project a message of unity, solidarity and generosity' in cooperation with UAF Chairman Andriy Pavelko.
Rubiales stated that 'it is no longer the Iberian Bid, now it is the European Bid', adding: "Each one of us represents our countries separately, but together we represent the transformative power that football has on society."
He continued: "I am convinced that in my country, in Spain, both the football family and society will be proud of the important legacy that this candidacy leaves behind for history. If football changes people's lives, it must also be capable of improving the world."
Gomes added. "This candidacy has many things to win: history, wonderful stadiums, gastronomy, tourism. Today we take another step: together we represent the power of transformation that football has in society. We believe that this candidacy, now, is much better."
The REFF states that its joint bid with the FPF and UAF has the support of UEFA and has been sanctioned by the Spanish Head of State – the monarchy – and government.
The federation added that the bid's Coordinating Commission, led by Antonio Laranjo, is working with Ukrainian authorities to incorporate its delegates.
This new bid comes shortly after media reports speculated last month that Saudi Arabia, Egypt and Greece are also putting together a joint bid for the 2030 tournament, which if successful would be the first cross-continental World Cup in history.
Meanwhile, South America's CONMEBOL is supporting another joint bid by Argentina, Chile, Paraguay and Uruguay, whilst a UK and Irish joint bid was abandoned in favour of focusing on the 2028 UEFA European Championship.