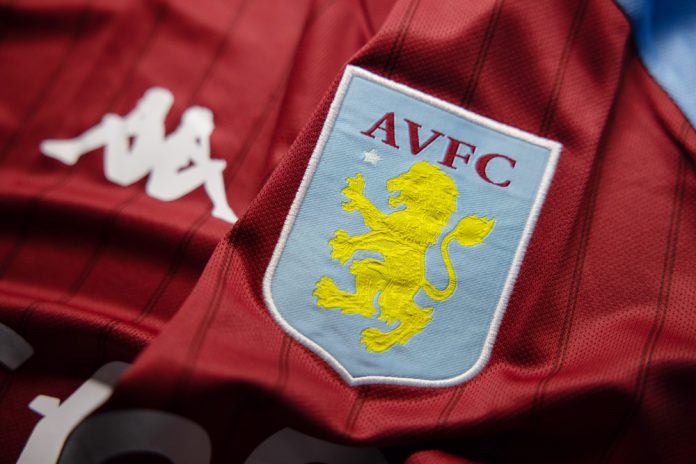 Aston Villa supporters' groups have confirmed on social media that the Premier League club is likely moving forward with its partnership with BK8.
There had been substantial fan backlash against the agreement when it was first reported by The Telegraph, which outlined that Villa had signed a three-year sponsorship deal with the online casino operator.
The deal will see BK8 branding featured on the front of Aston Villa's match shirts, as a replacement for outgoing three-year partner Cazoo, but fans were concerned about previous 'sexually provocative' advertising launched by the firm.
BK8 has a history of partnering with English football teams, having signed agreements with Crystal Palace, Burnley and Huddersfield, but its deal with Norwich City was abandoned three days in due to controversy around its marketing.
In an update via Twitter – which has been reshared by the Villa Bellas women's team – the Villa Trust revealed Aston Villa Fans Consultation Group (FCG) confirmed that it had been in discussions with club management and on 24 January.
"The FCG's understanding is that the reports are correct, and BK8 will be the new front of shirt sponsors for the next three seasons," the group's statement read.
"While some fans will be disappointed after Villa's current front-of-shirt sponsor moved away from gambling companies, the commercial reality is that to teams outside the top six, such sponsors offer clubs twice as much financially as non-gambling companies."
The FCG also confirmed that Aston Villa had not responded to media queries at the time of The Telegraph's initial reporting of the story due to 'contractual obligations' and being in the middle of its outgoing deal with Cazoo.
With the relationship between betting and sports falling under the spotlight, as policymakers prepare the Gambling Act review White Paper – apparently due later this month – the news and FCG's statement have taken on heightened relevance.
George Harborne, SBC Sponsorship Director, offered his insights on developments: "The political backdrop against which this agreement has been announced means that it would always have faced scrutiny, but that isn't something new for deals of this type in the UK.
"The choice of partner has amplified that scrutiny given the reasons for a previous agreement with the brand being terminated by a different club.
"With 2022 being arguably one of the greatest years for the development and growth of women's sport in the UK, agreeing a deal with a brand so publicly linked with 'sexually provocative' marketing tactics was never going to go unnoticed, particularly when that precedent had been set to terminate an agreement with the same brand by Norwich City."
Reform advocates have long called for such sponsorship arrangements to be banned, with Big Step Founder James Grimes describing the Villa-BK8 deal as 'tone deaf' in the face of 'inevitable government action of gambling ads and against a backdrop of mounting fan pressure'.
It is true that there has been some fan discontent with betting sponsorships across top-flight football, with Aston Villa CEO Christian Purslow himself previously saying that the club would put betting sponsors to one side.
Across the sport, the response of some Everton supporters to the club's deal with Stake was also notable, whilst further down the pyramid teams such as Bolton Wanderers and Forest Green Rovers have actively turned away from betting activity.
Harborne continued: "Villa have also failed to manage fans expectations, having previously outlined that they were moving away from betting partners as main sponsors of the club.
"This has been cited repeatedly by fan groups in response to the BK8 story, with supporters dismayed that the club have seemingly done a u-turn on a commitment to no longer carry betting sponsorship on the front of the shirt."
However, the FCG's statement did also acknowledge the financial role such sponsorships play for clubs outside the biggest earners, something which stakeholders such as EFL Chairman Rick Parry have often cited as key to lower league teams' income.
"The Aston Villa Fans Consultation Group has itself acknowledged in its statement that the reported BK8 deal could be worth as much as double the existing agreement with Cazoo, or another non-betting brand," Harborne concluded.
"BK8 has also made strides to right its previous wrongs highlighted by securing England legends Faye White and Kelly Smith as ambassadors over the last two years, and also supporting other women's football initiatives through their other existing club partnerships.
"I would envisage that should the partnership with Aston Villa proceed, then there will again be a strong commitment within that agreement for BK8 to support community initiatives and in particular those relating to women's sport."
As it stands, rumours over the past year have suggested that a full force ban on shirt sponsorships cannot be guaranteed as a Gambling Act review outcome, with some reports suggesting clubs will phase out such partnerships over the years.
The review of Britain's gambling legislation has been in the political pipeline for over two years, whilst the White Paper has been repeatedly delayed, but Ministers assert that its judgements – and any potential impact on sports relationship with betting, will be published 'in the coming months'.