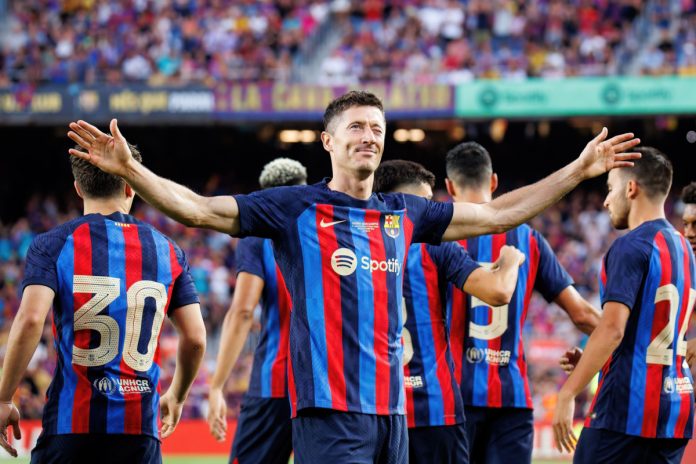 FC Barcelona has announced it has listed its in-house media division – Barca Media – on the Nasdaq exchange in a new partnership with Mountain & Co. 
The Spanish La Liga side has listed Barca Media at a pro-forma enterprise value of $1bn, and is set to overhaul its media approach as the new venture alongside Mountain will allow Barcelona to make new ground in the US market.
Whilst the US stock market regulator is still to grant the listings approval, the "major strategic transaction" reinforces the club's digitisation into a new realm of media opportunities, one that Barcelona aims to help bolster fan engagement.
Existing Barca Media shareholders will retain up to 80% of the new business, unless Mountain shareholders redeem their shares if no further capital is raised.
The new merger will be led by Spanish media executive Toni Cruz as its CEO. He will be tasked with leading Barcelona in building new growth strategies to enhance the club's pre-existing large following through original content and profitability.
Since returning as Barcelona President for a second stint in 2021, Joan Laporta has been dealt with the huge task of offloading much of the club's massive debt, beginning to sell off percentages in its media division.
Believing in its long-term future and the scalability of its in-house media team, the new Barca Media business is an indication that the club sees mass potential in its ability to drive revenue for the club.
Laporta stated: "We have made considerable progress in the digital and audiovisual spaces to ensure that Barça Media will grow into a multifaceted content creation hub that leverages the power and unique assets of the world-renowned FC Barcelona brand.
"The differentiated content that we have already produced has proven extremely valuable, resonating well and driving meaningful engagement with our growing global fan base while generating new revenue streams.
"This step is a strategic decision that will give us additional resources to continue to grow the platform at a time when the demand for sports-themed digital content is expanding exponentially."
Boasting more than 330 million fans and 434 million TV viewers in the 2021-2022 season alone, Barcelona is now looking to capitalise on this huge following through more innovative approaches to engage its audience.
Barca Media will also licence content to partners such as Disney+, Sony Pictures, DAZN and more to expand its presence across a multitude of media platforms, attempting to establish itself as a world-renowned media brand.
Dr Cornelius Boersch, CEO of Mountain & Co, added: "Football is already the world's most popular sport and continues to gain traction in high-growth markets such as the United States.
"With the 2026 FIFA World Cup being played in 16 cities across North America, we believe it is an excellent time for this partnership and to capitalise on a growing captive audience for the authentic content the Business is creating."