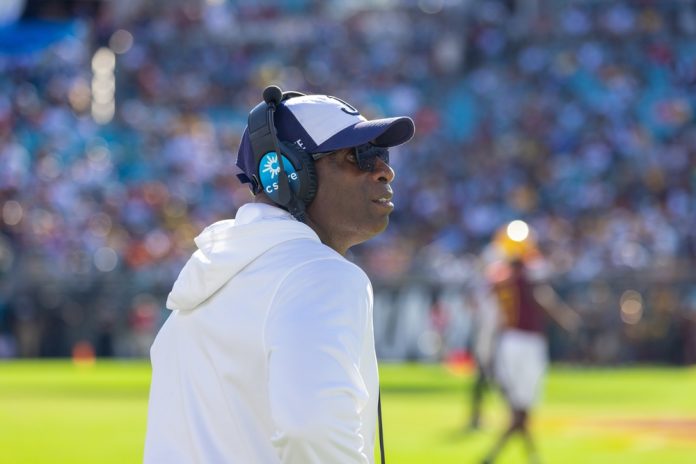 Since NFL icon Deion Sanders took over as Head Coach of the Colorado Buffaloes, he has attracted US audiences attention to college football.
The Buffaloes have started the PAC-12 season with a 100% record under Sanders' reign, with its most recent victory coming last weekend over rivals the Colorado State Rams, which garnered significant media attention from ESPN.
A live airing of First Take which featured Stephen A. Smith and Shannon Sharpe took place in Boulder, Colorado before the game against the Rams, as did a live airing of the Pat McAfee Show featuring guest Dwayne 'The Rock' Johnson.
ESPN's large-scale coverage of the Buffaloes-Rams fixture indicated to many that there may be a battle between fellow PAC-12 broadcaster FOX Sports to showcase Colorado games due to Sanders' immense popularity.
With ESPN and FOX sharing Colorado games in their current deal with the PAC-12 division, both networks are seemingly looking to one-up each other when it comes to their presentation of games in Boulder.
FOX Sports Commentator, Rob Stone, told Front Office Sports: "I think we're more in the hunting mode, rather than being hunted and it is fun being the hunter and coming up with new ways to attack.
"Our bosses have been behind it since the offseason and they have put resources into our product that are unheard of."
FOX has been constantly seeking to differentiate its college football production in launching 'Big Noon Kickoff' in 2019 to rival ESPN's 'College GameDay' with the latter outperforming FOX's offering by 70% last year.
Despite this however, FOX has outperformed ESPN in the ratings in the top game TV slots, with FOX's 'Big Noon Saturday' averaging 6.2 million viewers compared to ESPN's 7pm slot which garnered 4.3 million on average.
Furthermore, the Buffaloes' first game significantly drew more eyes to FOX, up from last years' average. Colorado's first game of the season against TCU drew an average of 7.26 million viewers.