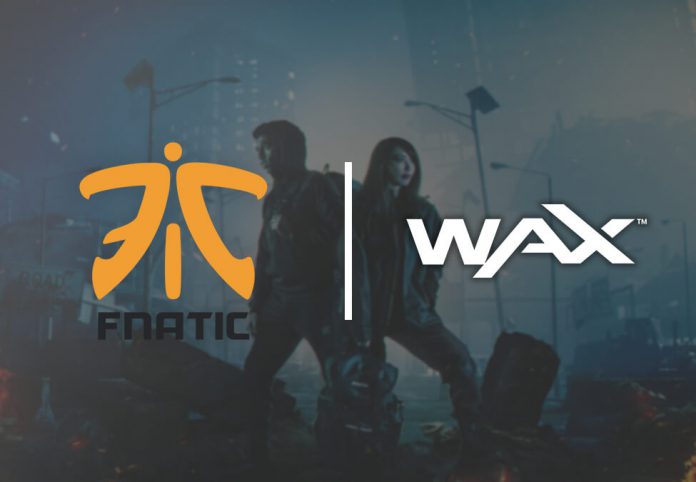 Fnatic has confirmed a partnership with Worldwide Asset eXchange (WAX) made to distribute digital collectables and physical merchandise through a blockchain platform.
As part of the new agreement, prizes will be given away during two parties such as custom Air Jordan shoes with Fnatic designs, autographed merchandise, and gaming accessories, among other things.
Benoit Pagotto, Brand Director of Fnatic discussed the partnership in a statement: "We see this new kind of transaction experience as very forward-thinking, and it's something we've been waiting years to try.
"since people are already very used to trading virtual items in the games they love. With this initiative, we want to start to define, with our fans, what the future of collectable and cool fan memorabilia could be.
"We are proud to be the first esports organisation, and one of the first brands, to offer this to our fans."
A line of digital memorabilia and collectables will be available from Fnatic and WAX will be during the aforementioned event.
Fans on the receiving end of this items will be able to store, sell, and swap them through WAX's platform.
William Quigley, CEO of WAX added: "We built the WAX E-Commerce Blockchain Platform from the ground up to enable these kinds of innovative, new e-commerce experiences.
"We're excited to usher in this new form of e-commerce where fans can instantly receive, trade and share their favourite products and collectables in-stream.
"This technology opens up all sorts of new avenues for engagement and monetisation for streamers and their viewers."
Fnatic is notoriously known for being one of the most prominent brand within the Esports industry. Competing in titles such as  Counter-Strike: Global Offensive, Dota 2, League of Legends, Fortnite, Rainbow Six Siege, Rocket League, FIFA, and Street Fighter V.
The organisation has added WAX to its roster of partners, which also includes Rivalry.gg, DreamTeam, Chillblast, Deezer, Monster Energy, DXRacer, Newzoo, Strafe, and AMD.