The opening month of 2019 is coming to an end, and as January migrates to February, Americans eagerly await the biggest sporting spectacle of the year, writes Benjie Cherniak – MD Don Best Sports, SG Digital.
The NFL title game is a cultural phenomenon like none other. Masses will gather to enjoy not just the game itself, but the commercials, the half-time show, and all the activities surrounding the sporting world's biggest match-up.
At the epicenter of all the hoopla is betting activity, and this year we get to witness our first title game post-PASPA, in which the betting component will feature front and center in Nevada, as usual, but also in a growing number of States across the country.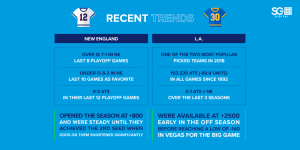 What To Expect
Not that the big game really needed more hype to begin with, as evidenced by the emerging handle in Nevada. A decade ago, Nevada betting activity hovered in the $80M to $90M range. The growth since then has been staggering, with last year's big game approaching $160M in handle from legal sportsbooks. Of course, that is just Nevada.
This year, we add New Jersey, Pennsylvania, Mississippi, West Virginia, Rhode Island and Delaware to the mix, which could drive handle over the $300M mark. A recent survey by the American Gaming Association reveals that nearly 1 in 10 American adults plan to place a bet on this Sunday's game. This means that more Americans than ever before will now be able to enjoy legal sports betting experiences.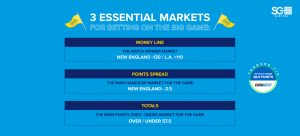 The Game Within The Game
The vast majority of handle for the big game is still driven by top-line markets such as spread, total, and money line. That is where the primary liquidity is found, and these markets will determine whether it is a Sunday to remember or one to forget for operators across the country. That said, the betting public will have literally thousands of prop betting options to choose from.
One can bet on all the standard props related to team and player performance or venture into imaginative cross-sport props such as whether basketball player point totals will exceed longest touchdown yard totals. If you venture into the European and grey markets, the props expand to metrics that have little to do with football, such as how many songs are played at the halftime show.
Fearless Prediction
The line opened Rams -1.5 and now sits at Patriots -2.5, so it is clear who the public is currently backing. While the business of predicting who will emerge victorious on Sunday should be left to the tipsters, it seems extremely likely that with additional states legislating in 2019, and with sports betting destined to become more culturally acceptable as it is brought out of the shadows, handle for the big game will continue to grow drastically year after year for the foreseeable future.
That is the one bet you can take to the bank.