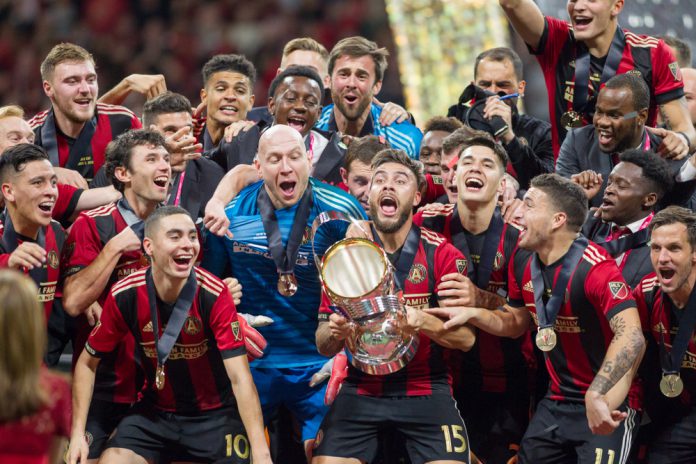 A report by the CIES Football Observatory has revealed that in terms of attendance, US Major League Soccer (MLS), is one of the fastest growing leagues in world football.
In the period between 2013-2018 attendances increased by 34% compared to 2003-2008, in the same period the Polish top flight reaped the rewards of successfully hosting the 2012 European Championships, with matchday attendances rising by a staggering 47%.
Nonetheless, the report also highlights that the German model for live football, is drawing in greater attendances, with the league being the most well followed in the world over the past five years.
As well as this, benefiting from the recent relegation of one of the country's most historic clubs Hamburg, the German second division was also reported as the best attended second division in world football, just edging the English Championship to the accolade.
In terms of following, the Mexican top division is the most popular competition outside of the non-European leagues covered by the study. Retaining a significant popularity advantage over the MLS, despite the exponential growth of the sport in the US.
The study also revealed that over the past five years, Celtic and Rangers were amongst the most watched clubs in world football, both joining League One promotion hopefuls Sunderland in the top 50 list.
In its conclusion, the study stated: "The comparative analysis of attendances shows substantial disparities according to league. Germany appears as the footballing country par excellence. Although also very popular, English and Spanish clubs have considerably less spectators than German teams. Outside of Europe, Mexican clubs attract the biggest crowds.
"The study of the changes since 2003 reveals the growing enthusiasm for football in the United States and Canada. Despite the increase in the number of teams participating in the MLS, average attendances have consistently increased to break the 20,000-spectator threshold over the past five years. This limit has also been broken in China, where football's popularity is henceforth well established too."