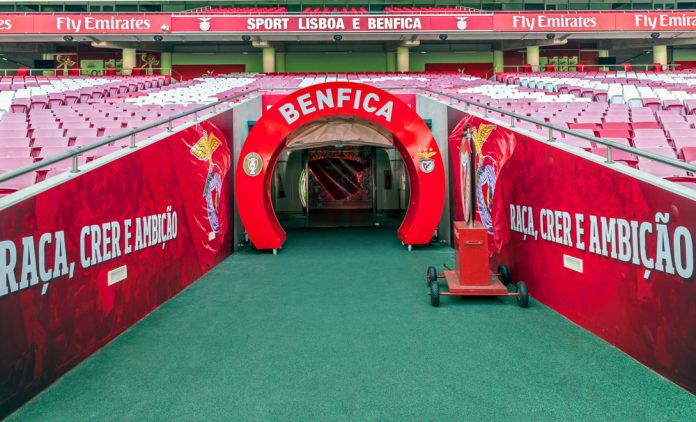 Portuguese Primeira Liga Champions Benfica has united with cryptocurrency solution provider UTRUST, allowing supporters to purchase tickets and merchandise directly from the Benfica website using cryptocurrency.
The partnership will see the Portuguese football champions become the first major European football club to accept cryptocurrency as a payment method, with Benfica's wide range of supporters now able to utilise crypto to purchase match tickets and club merchandise through the Benfica online store.
Benfica CEO, Domingos Soares de Oliveira commented on the collaboration: "This is an exciting day in the history of S.L. Benfica as we announce our decision to accept cryptocurrency payments. Our benfiquistas make Benfica the unique and special club it is and we recognise that many of our supporters are now digital users first so we want to be ahead of the curve when it comes to adopting novel technologies and giving our supporters the best online experience.
"We are very excited about the possibilities that this partnership with UTRUST presents in the evolution of our e-commerce strategy and we look forward to accepting our first cryptocurrency payment."
The core of UTRUST's technology seeks to allow Benfica to take advantage of the increased security and convenience of cryptocurrency payments whilst protecting the club from market volatility. It will also significantly reduce processing fees and eliminate inconvenient credit-card chargebacks and fraudulent payments. As well as this, Benfica will be able to settle payments directly to its bank in fiat on the very same day they are received.
The partnership also aims to increase efficiency and security for the club's fans, with users able to pay using the native UTRUST token (UTK) or alternative cryptocurrencies like Bitcoin and Ethereum.
UTRUST Co-Founder and CEO, Nuno Correia commented on the partnership, stating: "This partnership with Portugal's number one football club marks a major milestone for UTRUST and the blockchain ecosystem as a whole. Benfica is one of the biggest sporting clubs worldwide and we are delighted to be making cryptocurrency payments possible for their 14 million supporters around the world."