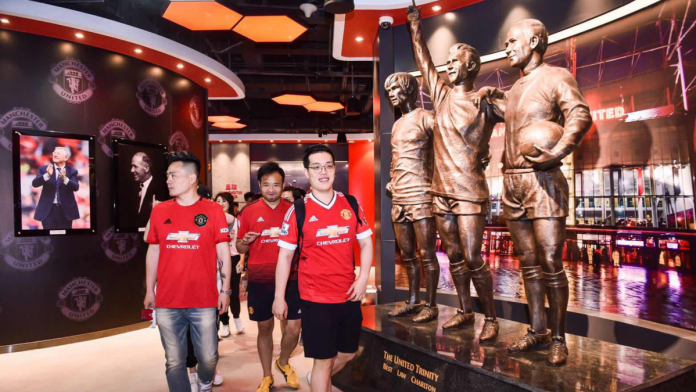 Seeking to elevate engagement in China, Manchester United has announced the launch of new digital and physical immersive experiences in the region.
Further strengthening its relationship with fans in China, the club has also revealed it will launch a dedicated Chinese app and major interactive experience centres in the country.
Bo Zhang, Harves Entertainment chairman, commented: "We share a vision for an engaging and immersive entertainment experience that will allow young people and fans more access to the historic club."
United legends, Peter Schmeichel, Dimitar Berbatov and Wes Brown were in attendance at the preview centre, with its official opening taking place next year. It will also be followed by further centres across the country, as United seeks to deepen its already strong presence in China.
The centre, which is home of United's first official megastore in mainland China, as well as a host of experiences for fans based in the country, including a replica of the iconic holy trinity statue, an interactive showcase of the club's most memorable moments.
Focusing on the app in China is unsurprising given that United's mobile growth has aided the progress of the club, since the app's formation.
Speaking on an investors' call earlier in the year, United's Managing Director Richard Arnold lauded the club's mobile platform: "A lot of time and attention went into analysis and testing of what works with apps. We did that all around the world with different kinds of apps in different kinds of environments.
"The product that we eventually launched certainly wasn't the first in the world but we aim to make it the best. That has been borne out and we believe that is very important in the sustainability we are seeing with the engagement of fans.
"The product that we eventually launched certainly wasn't the first in the world but we aim to make it the best. That has been borne out and we believe that is very important in the sustainability we are seeing with the engagement of fans."